Linda Brown, From Landmark Case Brown v. Board of Ed. Has Passed Away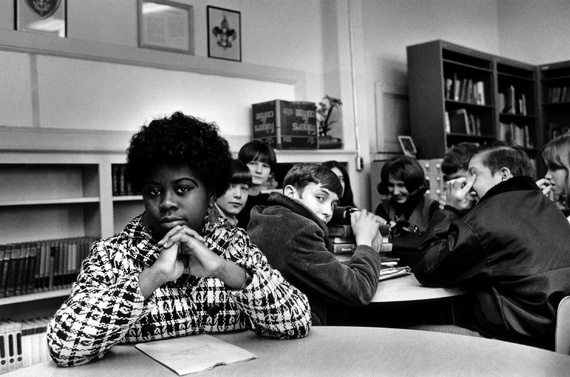 Linda Brown-Thompson, the daughter of a courageous man who pushed one of the most influential cases to the Supreme Court, has passed away in her hometown of Topeka, Kansas. She was 75.
Brown-Thompson was just a little girl who went to school. She grew up around people from all walks and backgrounds, as she said, "I played with children that were Spanish-American, …. played with children that were white, children that were Indian, and black children in my neighborhood." Brown- Thompson never recognized a person as their color. She was never raised to do so.
That's what fueled her father, Oliver Brown, in his fight for his daughter. He refused to settle for the fact that Linda was forced to trudge across railroad tracks and hop on a bus just to get to school each day. Linda ponders this, remembering, "My father pondered, 'Why? Why should my child walk four miles when there is a school only four blocks away?" He, as well as anyone, knew exactly why. The only thing that she had that others didn't was her skin tone. This was a result of the elementary schools in Topeka being racially segregated, with one for the colored children, and another for the white children. Separate, but supposedly equal.
In 1950, the NAACP, National Association for the Advancement of Colored People, urged parents, including Oliver, to enroll their children in white-only schools. Linda remembers that day as "It was a bright, sunny day and we walked briskly, and I remember getting to these great big steps." She was a 3rd grader at the time, remembering when she was barred from entering Sumner Elementary School; a segregated public school. The strategy was for the civil rights group to file a lawsuit on behalf of the 13 families, who represented different states. It was deemed "Brown v. the Board of Education" simply because the last name fell to the top of the list.
The case went to the Supreme Court, with the families being represented by eventual Supreme Court Justice Thurgood Marshall. The goal was to strike down the 1896 notion of "Separate, But Equal" upheld from the Supreme Court case Plessy v. Ferguson.
In the end, victory was achieved when the courts ruled unanimously in favor of the plaintiffs in Brown v. Board of Education, destroying the notion of "separate but equal" and concluding that segregated public and nonpublic facilities held back African-American children from a richer educational experience.
Brown-Thompson would go on to attend Washburn University and Kansas State University, becoming an education consultant. Having her family in Kansas, she decided to settle back home in Topeka, where she would pass away surrounded by her loved ones.