Se'Quan Lawrence Signs to Major University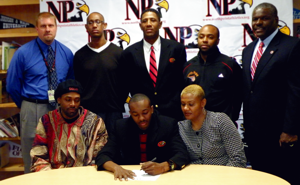 "When people think of North Point basketball, they'll think about you," said Mr. Johnson as he congratulated Se'Quan Lawrence ('10), the first player from North Point's boys basketball program to sign a letter to a major university.  
     Lawrence, who has been playing Varsity basketball since his sophomore year, signed his Letter of Intent to Brigham Young University-Hawaii on April 30.
            Though his sophomore year was rough, he was able to earn his position on the team. "I spent my sophomore year trying to find myself," said Lawrence," but now I work hard enough to make sure I'm a key player."  
     "I have a lot of respect for him," said Coach Ball," He didn't complain. Instead, he accepted his role. He worked hard and continues to work hard."
      Coach Ball has been someone to motivate and support Lawrence when things have been good and bad. "He will be successful if he prepares his body for the college level," added Coach, who has been trying to prepare Lawrence as much as he could.
     "I'm excited and ready to see what college life is all about," commented Lawrence who plans on studying Business Management when he gets to Hawaii. Going so far from home will be hard for him but he says, "[its] something I'm going to have to deal with."
     "I don't believe in the word pressure," he remarks when it come to playing at the next level. He says that he'll be able to help his new team all around defense and offense. "I am a very versatile player."
    Coach Ball has nothing to worry about when it comes to this star athlete. "He's very academically sound and will do fine when he gets to BYU."
     Lawrence will join the Seasider's Men's Basketball team this fall.