Football 2010 Preview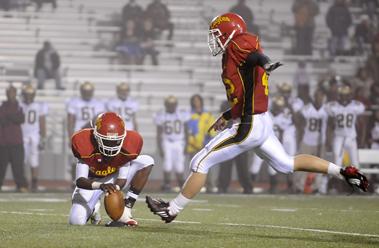 "We Are!"
"North Point!"
Those words can often be heard by the North Point Varsity Football team at the close of their practices. Many who have seen them play know that they are a force to be reckoned with. They have proved it during the last two seasons with a combined 18-2 regular season record, including a 10-0 record during the 2009 season.
To Head Coach Ken Lane, last season's success "was better than we expected. We won some close games early on, had a few footballs bounce our way, and a bit of luck."
After losing 37 seniors after the 2008 season, one would wonder how a team could bounce back the next year. North Point took it all in stride, and proved to be one of the best teams in the SMAC.
Once again, North Point is losing some key seniors including Arlando "Tre" Scott, Danny Dempsey, Cassius Sendish, and Nico Washington, who will be playing for Norfolk State University next year. Coach Lane believes that, even with the loss of the seniors, there will be a lot of experience returning to the team.
Even though North Point has done well the past two regular seasons, the playoffs haven't been the kindest to them. "Obviously, we were young and lost to a good team in Old Mill last year, who went on to take the [4A] State Championship," says Coach Lane. He believes that the experience of the upcoming seniors, as well as the juniors coming up from the Junior Varsity team, will help them get rid of their playoff woes.
When asked about any predictions for next year, Defensive Coordinator Ryan Gick enthusiastically said, "Championships!" Coach Lane added that "We are always in a wait-and-see mode, but at the same time we can always be hopeful for a good season. Having good team leaders and chemistry will result in success."
Regardless of the time of year, football season or not, North Point Football makes sure that the rest of the community knows that…
"We Are!"
"North Point!"