Crowell a Buckeye, Gartrell a Bulldog, and Onakoya a Red Fox- National Signing Day at North Point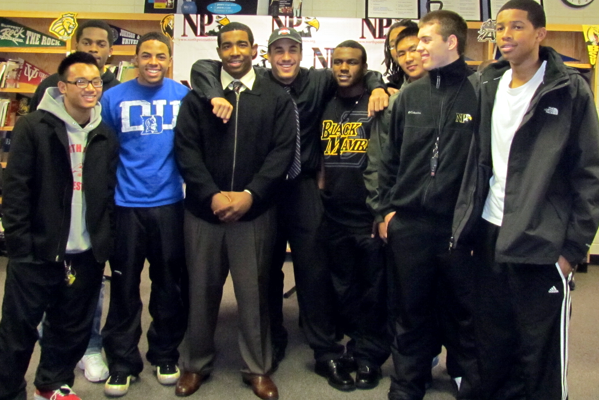 Wednesday, February 2 marked high school football's biggest event – National Signing Day. The career center was packed with a compilation of sports captains who came to support Connor Crowell ('11) and Anthony Gartrell ('11) as they signed their names on the dotted line. Wale Onakoya ('11) signed his letter of intent the following day.
He wanted the large group of captains to be a part of this event along with friends and family. "Our student captains are like ambassadors. They can relate this process to their teammates," said North Point Athletic Director Mr. Johnson, as he noted the importance of their presence at the event. "Many have never seen a signing take place, so it's also important for them to be a part of it.
"This is a great opportunity for our student athletes," opened Johnson as Crowell sat in front of the crowd with his parents, ready to sign his letter of intent to Ohio State University. "Connor, we say all the time, that you are part of our family," he continued.
The 6-foot-1, 220-pound linebacker had 13 offers by the fall season, including University of Maryland, West Virginia University, University of Virginia, Kansas State University, University of North Carolina, and Duke University. After narrowing his choices down to Penn State University, Ohio State University, and Stanford Universit, Crowell verbally announced his commitment to the Buckeyes during the season's last home game against Thomas Stone.
Just nine days prior to the signing, Crowell's decision sparked a visit from OSU's head coach, Jim Tressel. Tressel, who came along with student coaches Luke Fickell and Paul Haynes on Monday, January 24, sat down with Crowell, his coaches, and Mrs. Hill during the visit.
When recruiting, Tressel looked for football ability, character, background, and academics. "We evaluate whether or not they can go to a place like OSU," he stated. With an average ACT score of about 27-28 (SAT equivalent being about 1800), OSU's student athletes compete both academically and athletically.
Expectations in the football arena are also high. "Football has to be of importance to the student," Tressel continued, "we looks for athletes who are really engaged and have the ability to stay on the same page with the student coaches."
The recruitment process is very selective. "We start with about 100 players, 30 or fewer visits the campus, and we only sign 22," stated Tressel. It was important for them to find out as much about Crowell as they could.
Crowell's interest in excellence, his passion, and his ability to be a leader is what stood out to them. "We found someone who is able to be part of the program; something bigger than themselves," commented Fickell. But after making their decision, Crowell had to make his.
OSU boasts a strong student athlete community. With over 1000 motivated athletes, the large athletic program offers a huge support system. "These are the kids you want to hang around," advised Tressel. "The athletes stick together to encourage each other. There are so many times when a player will hang around the wrong crowd and they just end up pulling him or her down."
In regards to the injury he suffered late in the season, Crowell was assured that his broken fibula, fractured foot, and dislocated ankle, would not affect his career."As soon as it happened, they let me know everything was going to be fine," he stated. Although he's currently limited to upper body work outs, Crowell says that he'll be able to get back on his feet soon.
"Injuries are just part of the game," said Fickell who is confident that Crowell can work through the ailment, considering that they are more concerned with shoulder injuries. "When it heals, it will be stronger than it was before. He'll be fine," Fickell stated.
Crowell will soon experience the differences between high school football and college football. After numerous visits to the campus, he is excited to continue his career as a Buckeye. Though he is not sure what he will major in, he returns to the campus on June 19, only three weeks after graduation, to start his classes and begin training.
Gartrell also made his mark on a letter of intent to Bowie State University. After joining North Point athletics last fall, he has also been a great contributor to the program. "I'm very excited for an opportunity to play football for another four years," he commented. As an official Bulldog, he expects to get on the field and play as hard as he can.
To prepare himself for the next level, Gartrell plans to continue weight training, eating enough to maintain his weight, lifting to increase his strength, and running to increase his speeding. He's also determined to stick to the work ethic that got him into BSU's football program.
In addition to Crowell and Gartrell, Onakoya committed to Marist University. Known for his speed, the 5-foot-6, 166 pound running back boasts an impressive 4.4 yard dash. "I'm just excited to keep playing," he stated.
By the end of the week, two of North Point's student athletes had signed to Division I and Division II athletic programs. Johnson extended his appreciation to Coach Lane for his contribution towards North Point's sports program.
"We are very fortunate that over the years we've had a number of athletes move on to the next level," commented Johnson. Crowell, Gartrell, and Onakoya set an example. "Our underclassmen might see the example they set, look up to them, and work towards the same goal," he added.