Eagles Bury Wolverines In 20th Straight Win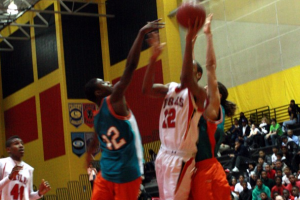 Going into Friday, February 11th, the North Point Boys Varsity basketball team carried a 19 game winning streak, an undefeated record, and the top spot in the SMAC standings. Standing in the way were Westlake High School's Wolverines.
In just about any sport, the North Point-Westlake rivalry is always an intense matchup and hard-fought until the end, regardless of the team's record. On this day, however, the records were very different. The Wolverines had a 6-13 record going into Friday night's game, but, because they were playing North Point, they intended to fight hard for a win.
North Point shot down their hopes before they could even try.
The crowd set the tone early in the game. The hype led to productivity as North Point jumped out to a 14-8 lead by the first timeout.
Forcing turnovers was the theme of the game as the Wolverines lost the ball on multiple possessions in throughout the night. After the first quarter, with the Eagles up 25-10, the game was temporarily paused to congratulated Devonte Thomas ('11) on scoring 1000 career points as a North Point Eagle.
The game resumed and North Point continued to force turnovers on defense and execute on offense, taking a 50-31 lead at half time.
The second half of thne game continued as smoothly for the Eagles as any blowout could go. Lead by Thomas' 19 points and Gerel Simmons' ('11) 17 points, North Point proceeded to gain their highest point total of the season, winning 97-73.
Though the second half lacked most of the excitement of the first, some of that emotion came back in the final few minutes once the team hit 90 points. Lead by students, the crowd started chanting, "We want a hundred", anticipating a 100 point output by the Eagles, who have only done it once before against Patuxent High School two years ago.
In the final possession, the crowd held one collective breath as Quinton Watts ('12) took the final shot of the game, a long three point attempt. The ball went up in the air and as it began to come down, it looked as though it would go in. Instead, it hit both sides of the rim and came out, leaving the Eagles just short of the century mark.
Coming off of a 15-9 campaign the year before, the Eagles weren't expecting to be a threat. Now, at 20-0, they are the team that no one wants to face.