Just Too Much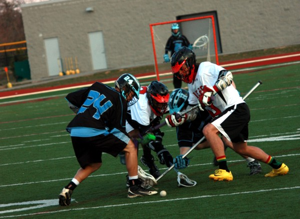 A windy, bone-chillingly cold evening is not the ideal setting for a lacrosse game. However, Friday night's match-up between North Point and Huntingtown presented those conditions, forcing fans to bring jackets and blankets to enjoy the game. For the Eagles, however, that night was anything but enjoyable.
Huntingtown jumped into a quick 2-0 lead in the first quarter in part to an aggressive defense and good ball movement. In the second quarter, the Hurricanes increased their lead to 5-0, forcing the Eagles to call a timeout and regroup. The Eagles then got back on the field, and freshman Justin Randolph ('14) proceeded to give the Eagles their first goal by way of a goalie error. After two more goals by Huntingtown, Logan Tobler ('14) scored the Eagle's second goal of the game, bringing the score to 7-2. However, Huntington scored five goals in the 4th quarter to win 12-2.
Things didn't get any better for the Varsity team. Huntingtown started the game by scoring within four minutes of the game. Even though the Eagles didn't allow another score in the first quarter, the Hurricanes began an offensive onslaught, starting with their second goal early in the second quarter.
The Eagles had no answer for the Hurricanes' success as they were trailed 5-0 at the end of the first half. North Point increased their defensive intensity enough to allow only one goal in the third quarter, but Huntingtown proved scored six more goals in the fourth.
The final score was 12-0 with Huntingtown taking the win. The losses put both Junior Varsity and Varsity at 0-2 against out of county teams. The transition from county competition to SMAC competition was bound to be a bumpy ride, but two straight losses to their out-of-county opponents was not what the Eagles had in mind.
[imagebrowser id=74]