North Point Loses Battle of Undefeateds vs. Patuxent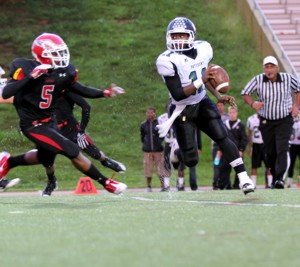 The weather forecast for Friday, September 23rd was rain all day. However, the rain came to an abrupt stop shortly before the Varsity Football team faced off against undefeated Patuxent. The game looked to be an exciting matchup with both teams leading high powered offenses and punishing, stingy defenses. With two talented teams going head to head, someone had to lose. Sadly, that someone was North Point, as the Eagles lost their first game of the season, 24-10.
Going into the game, Patuxent was the only SMAC opponent that North Point Varsity Football has not beaten. It became evident early on that Patuxent was going to keep that streak alive, as they returned the opening kickoff to the Eagle's eight yard line. Fortunately, North Point was able to hold off the Panthers from reaching the end zone, forcing them to settle for a field goal.
Offensively, North Point sputtered early and produced a three-and-out on their first possession. The Eagles immediately got the ball back when Blake Monroe ('12) intercepted a Travez Lee pass in the middle of the field. Once again, though, North Point failed to score, giving the ball back to Patuxent. The game quickly turned into a defensive struggle with North Point forcing another turnover, a fumble recovery by Dwain McCray. Shortly before the end of the first half, Patuxent extended their lead to 10-0 after recovering an Eagles fumble and returning it for a touchdown.
The Eagles returned from their halftime break with a bang, scoring on their first possession with a 52 yard run by Franklin Marshall ('12). Bringing the score within three points, the Eagles looked confident that they could bring themselves back into the game. Patuxent, however, refused to relinquish their lead, when Lee and receiver Dakota Edwards hooked up for a 38 yard touchdown connection. With the score at 17-7, the game began to slip out of the Eagles hands. Kicker Bryce Fugitt ('12) added three points from a 30 yard field goal, bringing North Point within one touchdown again. That would be the last time that the Eagles would score, as Patuxent's Lee and Edwards hooked up for another touchdown, putting the game away.
With a final score of 24-10, the Eagles lost a hard fought game that could have gone either way. "I told the guys before the game that Patuxent is a good team, and they can go either 10-0 or 9-1," said head coach Ken Lane. Patuxent managed to hold North Point down from their usual 30 points per game, and the Eagles defense gave up more points against the Panters (24) than they did in their previous three games combined (14). All but three of Patuxent's points came off of errors by the Eagles. "Defensively, we did a pretty good job, with the exception of those two or three miscues," stated Monroe.
Next, the Eagles will be facing off against the Huntingtown Hurricanes, who shares the top spot in the SMAC with Patuxent. "Hopefully, we can use this loss as motivation for next game," stated Lane. "We need to get back together, watch some film, and practice hard, and we will be able to compete against them."