Eagles Girls Soccer Team vs. Huntingtown: Missed Opportunities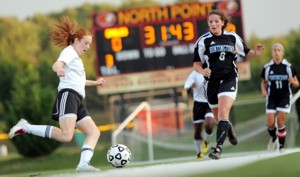 Going into Friday night's Girls Soccer game against conference opponent Huntingtown High School, North Point was coming off of back-to-back wins in which they outscored their opponents 9-2. With no weather problems, Friday presented ideal conditions for a soccer game.            
Statistically, on the other hand, the matchup was far from ideal. Though Huntingtown had played two more games than North Point, the Hurricanes came in averaging roughly two more goals per game than North Point while and allowing less than one goal per game defensively. Huntingtown also had history on their side, as they had beaten North Point in their last two matchups in 2010 and 2009.    
Early on, Huntingtown took control of the game and kept the ball on the North Point side of the field. After many changes in possessions, and an effort by the Eagles to put the ball on the Hurricane's side of the field, Huntingtown's Victoria Bellucci scored the first goal of the game with 17:20 left in the first half. After the score, North Point's defense slowly began to set the tone for the game, consistently intercepting passes as Huntingtown tried to move the ball around. By the end of the first half, North Point was able to keep the Hurricanes from scoring again, though they failed to score themselves.
As the second half began, the Eagle's offense began to show some progress. Led by captain Julianne Lo Grasso ('12), North Point was able to work offensively on Huntingtown's side of the field for much of the half. However, the Eagles were never able to capitalize on their many possessions close to the Huntingtown goal.
At the game's end, the Hurricane defense held together and prevented North Point from scoring, and the Eagles lost 1-0. The Eagles had many chances to score; however, missed passes, bad attempted goals, and miscommunication all played big roles in the loss. "Missed opportunities are always hard to take," stated Coach Douglas Decook. "In soccer, you've got to build up all the way through. It's can't just be one part of the game, it needs to be all parts of the game. We couldn't do the finishing part, and that's what hurt us."