Underdogs Exposed: The Poms Team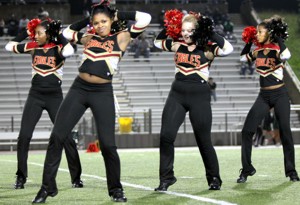 The signature high school scene will never be without the cheerleaders and football team. However, often left out of every happily-ever-after high school storyline is the poms team.
Cheering and dancing are sometimes thought of to be the same thing. In reality, cheering and dancing are two completely different methods of entertainment, from to utterly different worlds.
"We perform for entertainment, not to hype up the crowd," said the poms team; "We prefer dancing because we get to be diverse in what we do. It's not entirely about the crowd."
Dancing is considered by many to be an art. In the team's opinion, their hardest skills to master are picking songs and making routines, because it is essential to avoid being repetitive. In Coach Smith's opinion, the team struggles to remain in unison with each other and the music.
Unlike some North Point students' opinions, the poms team makes appearances at events besides football games. They perform at soccer, field hockey, and basketball games as well.
Undoubtedly, their favorite event to perform at comes to a tie between the Friday night football games and the annual Poms Competition in the Winter. They enjoy performing at football games because they're the center of attention of a big crowd under bright lights, and competition gives them the opportunity to show off their skills, but also learn what they could improve upon.
Competition is very different from football games. It is much more structured, but the team gets to dance to different styles of music, whereas football games are more relaxed, and the music chosen is mostly to hype up the crowd.
Being a member of the poms team provides many perks. The team says the best part about being a member is being able to make friends while dancing. The girls claim that they have become like a family. "We're all like sisters," said D'Auna Coley  ('15.)
Although every team has its strengths, there is always room for improvements. This year, the poms team hopes to perform well, and do better at the Winter competition. "I feel like we lack in giving our audiences energy. Excitement from the crowd would boost our self-pride in the way we dance," said captain Sierra Terrell ('12.)
Coach Smith has plenty of dancing experience herself. Since the age of five, she has been an avid dancer. "I was captain of my college's dance team. I wanted to continue to have a part in dance after I graduated," said Coach Smith. She also said that there was no dance team at her high school, so she was happy to be able to provide the girls with an opportunity that she missed out on.
Cheerleaders may have the "rule-the-school" persona, but the poms team is not to be overlooked or forgotten.