Girls Like Hockey, too!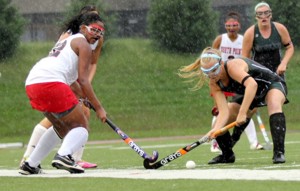 When the school bell rings at 2:50 pm everyday 39 girls go change for field hockey practice. They head down to the turf to practice their craft. Though it's said that hockey is a man's sport, field hockey is also for the ladies and they work just as hard.
The girls have been putting in a lot of hard work this season. The varsity team has won two games this season. Though they aren't undefeated, they are still working hard to win the rest of their games.
The North Point field hockey teams practice hard, but play harder. The girls have as much drive as "real" hockey players. They have to overcome some challenges, but they do their best so they can be a great team. "The hardest part is being able to work together as a team and trying to master the sport as one," said JeTaime McKissic ('14) a first year field hockey player on the JV team.
Though there are some girls that are new to the sport and new to the team, they work just as well together. The girls on the team work to pump each other up and playing on their strengths. "Our field hockey team is very close knit and works well together," said Jackie James ('12). Girls just being introduced to field hockey seem to have as much enthusiasm for the sport as more experienced girls. McKissic said, "I wanted to try something new."
The varsity field hockey team is made up of nineteen girls. Eleven of the girls are seniors that have great potential to do great things later with field hockey. One player to watch is Tiana Woods with her major stick control and speed on the field. There were many other seniors that should be watched closely for their potential, such as Sarah Ferrell, Heather Yerecic, Natalie Edwards, Alexandra Garner, and Natacha John. "They all bring our offense line to life," claimed Aaliyah Bailey ('12).
The enthusiasm and drive for the field hockey team doesn't stop at the players, continuing to the coaches.  Varsity coach Ms. Fair has been coaching field hockey for eight years. She said, "My goals for this season are to win 50% or more of our games and have stronger attacks."
The girls have been working hard this season and overall [JV and Varsity] have won four games. With four games left in the season, the girls are ready to work hard, play hard and get the wins.