Going the Distance: North Point Cross Country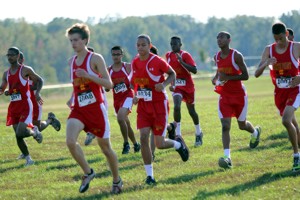 "My sport is your sport's punishment" is what the North Point Cross Country shirt stated in 2009. For many athletes, this statement is entirely true. Some do not consider cross country to be a sport, however running takes just as much skill and preparation as any other sport out there.
"Even though it takes a lot of hard work and dedication, the feeling of accomplishment afterwards is indescribable," said Emily DiToto ('14). As with any other sport, cross country runners practice every day, and devote themselves to the sport as well as the team.
Cross country practices are very similar to those of all the other sports teams here at North Point. The runners usually meet with their coach and have a quick pep talk before they warm up. After warming up, they break into training groups determined by race partners, and begin the assigned workout for that day. Practice is ended with a thorough cool-down.
Just as with any other sport, a team consists of different athletes with different strengths. The cross country team is divided into distance runners and sprinters, of whom each have different practice routines.  "Distance runners emphasize aerobic capacity- the ability to run for long periods of time without experiencing fatigue, whereas sprinters focus more on speed and don't run as much mileage," said Katy Bonaro ('12).
Regular meets are not the only events that the cross country team prepares for; throughout the year, they also practice for the Southern Maryland Athletic Conference Championships, as well as the Maryland State Championships.
Even though the latter events are much larger, "Every race is important in its own way. We couldn't even think about championship races without regular meets," said D'Atra Davis ('13).
"There is a lot of positive energy and anticipation this year. Everyone is working hard, and truthfully there is no satisfaction until you sweep through SMAC, Regionals, and States victorious," said Garrett Davis ('13).
Coach Ball shares this ravenous hunger for victory. "Our main goal this year is to win our first Regional and State titles," he said.
The cross country team does not only train during the school year. "As a team, we trained nearly every day this summer. We got up early and went running on trails at schools or parks. Even though my group and I were distance runners, we added speed and endurance components to our training as well," said Justin DeJausserand ('12).
Individual training is also very common among the North Point cross country team. "I train outside of school, for example if practice gets cancelled. And at practice, we individually work on endurance and muscle strength," said Leisel Davis ('15).
Running isn't the only thing that the cross country team does together; there are several ways in which they bond. "Cross country is definitely a family sport. We do so much team bonding. Every year, we have a pool party before the season starts. Then throughout the year, we have 'pasta parties' to carb-load the night before a meet, thanks to all the parent volunteers who cook for us. Throughout the holidays, we have several get-togethers, and at the end of the season, we usually have a party," said Katy Bonaro ('12).
Coach Herron is just as passionate about the sport as the members of the team are. "I started running as a freshman in high school, so I have over ten years of experience. Running is something I've always loved. I loved cross country in high school, and providing that for students here is something I wanted to carry on here," she said.
Even though not every athlete enjoys running, it is a very common form of physical activity. "The first thing I'd have to say to anyone who runs, avidly or not, is 'good job.' Anyone who runs deserves some credit. It doesn't matter if it's ten minutes or an hour; there's nothing that beats finishing a race, especially with your team because you get to congratulate each other. Stick with it, and run with a friend if you get the chance," said Garrett Davis ('13).