Unfortunate Events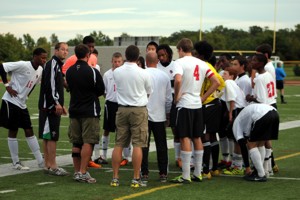 On a cold, windy Tuesday night, the North Point Varsity Boys Soccer team faced off in a clash against the Great Mills Hornets. Both teams came into the match undefeated and ready to battle. "The game [was] very important for us because it was a stepping stool for us to prove to ourselves that we can keep up our current play," said Dayon Greene ('12).
North Point had been on a roll since the season started, previously beating Calvert, La Plata, Patuxent, Huntingtown, and Westlake. Throughout all of those games the Eagles' defense had not allowed their opponents to score a goal on them. On the offensive side, they had scored a combined twenty four goals. The difference in this game is that Varsity Boys Soccer has never been able to defeat Great Mills in conference play.
Once warm-ups were over, the referees called each team's captains to the coin toss. Eagles captains Peter Lee ('12), Chris Mashinski ('12), and Bryce Fugit ('12) headed over to start the long awaited game. Eventually it got underway, and it was easy to see that the Eagles had a presence on the field as they were controlling the game the way they wanted too. Because of the Eagles calm, cool, aggressive play they were getting plenty of shots on the Great Mills goalie, but unfortunately nothing seemed to fall in the net. Then, with 11 minutes left in the first half, the deadlock was broken with a tap in by Quincy Davis ('12) from a cross by Jordan Chapman ('12). At this point in the game, the home fans were going crazy and things were looking up for the Eagles as they led 1-0 into halftime.
The second half began and both teams came out with a bang, each team wanting to score, were trying to test out their opponents defenses.  Then the unthinkable occurred when the Eagles conceded their first goal of the season in the 33 minute to Great Mills, which tied the game at 1-1. From there on till the end of the second half both teams were fighting to score, but nothing came, so two overtimes would decide the winner.
It was obvious that the Eagles wanted the win badly, but the players seemed to be getting tired after the first overtime. They had been fighting and playing hard for over eighty minutes in the cold, windy weather conditions. As a result of the weather, players were cramping, getting Charlie horses, but they fought through it.
Between the first overtime and ongoing second overtime not much happened except for a few unfortunate on and off target shots here and their by the Eagles. And then the final whistle blew, the game ended in a tie.  After the game Coach Lesko said, "It was a good game. They dominated and had their chances." He also added, "The team is very solid, mature, and full of senior experience.  They play well and they proved it last night."