Volley for the Cure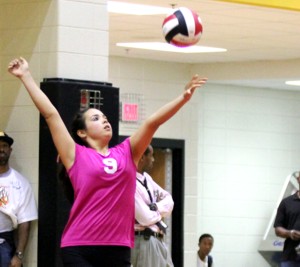 The Varsity Volleyball Dig Pink game between the North Point Eagles and the Lackey Chargers was a game to remember. The game started with a serve to the Eagles from the Chargers. The eagles scored first point with a kill from #13 Taylor White ('12). The first game went to North Point, 25 to 23. The second game and third games also went to North Point, 25 to 15 and 25 to 28, respectively.
Some highlights of the game were a set from Emily Subocz ('14) to the outside where Shae Gutrick ('13) hit around the block cross port, and when #6 Natia Tempelton ('13) hit the ball over the net three times to get another point for North Point.
Shelby Burton ('12) was a spectator of this game and a fan of some of North Point players. She comes to the games to support her friend Alanna Hirshman ('12). She has been to three games this season but came to this game for a special reason. "I will use any excuse to wear pink," said Burton.
Another spectator was Mr. Sollohub. In his "real men wear pink" shirt, he came to support the team to victory. He thought of the game as "Very enjoyable. And it was nice to see a crowd."
After the game Coach Steele, the Head Coach of the Volleyball team, was very pleased with North Point's play. "We bit off the hype for the Dig Pink and brought it on to the court," claimed Steele. White said "[We] Had some ups and downs but we still stayed a team and we didn't give up." "We kept up our game and didn't let our level of playing fall," Hirshman said.
Two players that stood out that game were White and Subocz. White had ten kills and Subocz had five aces and three kills.
But this game wasn't all about competition. It was also about finding a cure for breast cancer. Dig Pink was a fund raiser that the volleyball girls were happy to support. The girls sold t-shirts, bracelets, hair ties, cupcakes, and more. The girls also all bought pink jerseys, socks and hair ties to support their cause and wore them in the game to help represent what this game was about. Many teachers bought the t-shirts and showed up at the game to support the cause.
Denise Grant ('14) said "it's a great cause, it help out with the cure for breast cancer." Cirara Lopez ('14) finds that the shirts are very effective and fashionable. "The shirts are very beautiful," exclaimed Lopez.
The girls raised more than $1,300. This game was not only a victory for North Point, but a contribution to find a cure for breast cancer.