Coming to an End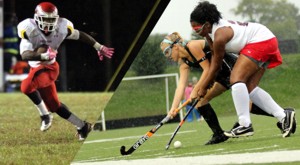 Fall sports are coming to an end, and a lot of athletes are not too pleased to hear that. Playing these sports is something they love to do. Most students are going to have to wait until next year to play with each other again. All that they can do now is reminisce and reflect on this year's season.
Trevor Harris ('13) has just finished a successful season of soccer. What made his season great was spending time with his friends while playing the sport he loves. He even scored a goal while doing so. The boy's soccer team has only lost one game. Winning eight games is something that Trevor is very proud of. It is safe to say that he is very passionate about soccer since he has been playing it for eleven years.  He looks forward to tryouts next year, where he will work hard and have fun in order to make the team again.
The varsity football team also had a spectacular season. "We won the majority of our games," said James Gupton ('13). Winning most of the seasonal games is not an easy task. Gupton and his football buddies put in a lot of hard work to get to where they are today. Although James is working hard, he is still having fun. Now that the season is coming to an end, he is going to miss spending time with his teammates. James said, "They are all like my brothers." He will especially miss playing on the team with the seniors. Gupton has no worries when it comes to next year's tryout; his nine years of experience really boosts his confidence. However, skill only takes one so far. The players relied on the coaches to guide them through their season. "The coaches are cool. They try to be a tutor on the field, off the field, and in life," said James.
Liesl Wegand ('14) feels that her field hockey team also had a successful season. She enjoyed a lot of new experiences this fall. Getting to know the new freshmen that made the team is something that Liesl found enjoyable. She liked starting a whole new sisterhood with all of her teammates. The thing she enjoyed most was playing the game itself. Now that fall sports are ending, Wegand will no longer have a place where she can go "chill out" while having fun. "I learned that one person's actions can affect a whole team. Think before you act," she said. Liesl plans on taking her talent to the next level by trying out for the varsity team next season. Her coaches will be there to give her extra encouragement when necessary. "They don't just tell us what to do. They can also be our friend," said Liesl.
Taylor White ('12) is finishing her last volleyball season with her North Pont squad. "We had some ups and some downs as a team, but we had a good season. There has been lots of team bonding going on over the past few months," she said. Being on a team is not entirely about individual talent; a team must have chemistry with each other. Practice was where Taylor and her girls liked to bond as one big family. Her teammates kept her up when she was down, acting as sisters to her. When fall is over, Taylor will miss actually playing volleyball the most. She enjoyed her last season as a North Point volleyball team member. White actually picked up some new skills during her last season of volleyball. She learned how to jump serve, stay on top of the ball, and even be a leader. Her coaches helped her learn these new skills. "I feel like my coaches really critiqued me on how to be better, even though I had attitude about it. They were doing it for the best," said White ('12).
These athletes love what they do. After all of them graduate from North Point and take the next step in their lives, whether its college, the workforce, or even professional sports, they will never forget the time they spent playing their favorite sport in high school.