Featured Athlete: Malachi Edmond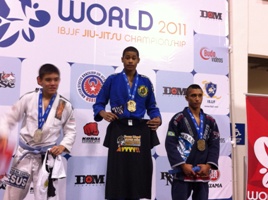 At most high schools, many student athletes participate in sports outside of the school's walls. Here at North Point, junior Malachi Edmond is one of many others who do participate in sports away from school. Edmond, a first year transfer from Henry Wise High School in Prince George's County, is a member of North Point's Varsity Wrestling Team. Away from school, though, Edmond happens to be the International Brazilian Jiu-Jitsu Champion for participants ages 16-17.
Edmond began Brazilian Jiu-Jitsu at the age of five. As most athletes would expect, things weren't all peachy keen for Malachi when he first got into the sport. "I wasn't that good," stated Edmond.  As time went on, Edmond's results began to improve. "I started to win at the age of 11, but they weren't big tournaments." At 13, Edmond received his first win at a big tournament, which prompted his coach to prepare him for the IBBJF World Championship. After years of preparation, Malachi took the gold medal during the summer of 2011 at 16 years old. "When I won, I was in shock. I just ran over to my coaches and thanked them after thanking God. I was like 'I did it,'" Edmond exclaimed.
In school, Malachi has been wrestling since his freshman year. In his first two years at Wise, Edmond compiled a total record of 44-14, including a 1st place finish in Prince George's County and a 4th place finish in the region. This season, as a North Point Eagle, Edmond is 21-5 while being ranked 14th in the state. "My goals are to place in SMAC, Region, and States this year," he claimed.
With such a busy athletic life, it's hard to imagine that Edmond has much time for anything else. However, Malachi manages to be an Honor Roll student and finds time to enjoy life. When he's free, Malachi likes to "Go to the movies with my grandmother and my brother. I also help my grandmother around the house. Community and family are two big things in my life."
Outside of school, Malachi Edmond has proven to exceed expectations set upon him. One can only wonder what the rest of his inaugural season as an Eagle will have in store.