Practice Hard, Cheer Harder: Jenée Neal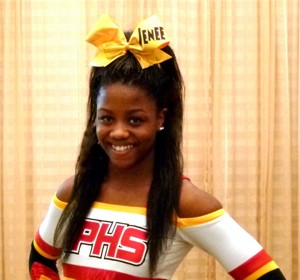 One, two, three, four, five, six, seven, eight. Up, down, around. These are the most common phrases that Jenée Neal ('12) hears every week. Neal is a cheerleader for North Point's varsity team and the Maryland Twisters' F5 cheerleading team.
Neal has been cheering for four years. She started cheering for North Point her freshmen year and started cheering with F5 her sophomore year. She plans to continue cheering in college and hopes to do so at the University of Louisville.
Neal puts in thirteen hours a week of practice time. Nine of those hours are devoted to F5. She puts the other four hours in at North Point every week. Her schedule is very strenuous due to the multiple practices, but she stays organized and on top of her studies. "I leave school early, so I do most of my homework then," said Neal.
To balance the two teams on some days she splits both practices. "Sometimes I have to prioritize which one is more important on days that my schedule conflicts," added Neal. She tries her hardest to spend as much time as possible with each team.
The F5 team competes at National and at World competition. They are a level five team, which is the highest possible. For both teams Neal is a main base. The work is not easy. "After a practice it feels like I have been running for those three hours of practice nonstop," commented Neal. At the end of practice, for the last thirty minutes, the team does conditioning with ankle weights and in the summer time the team runs for those thirty minutes.
Neal's four years of cheering have led to some many great accomplishments. She has been able to master many stunts, the hardest of which is a high to high stretch tick tock, coming down to a sqush, then a one and a half full up to stretch, then a ¾ turn down to a scorpion double down.
The F5 team won the world championship in 2005 and 2011. It has won thirty plus national championships. North Point's varsity squad has won the county competition four times. In Neal's words, "We're working on regionals and states. Hopefully we pull through this season."