'Tis the Season to Sign Letters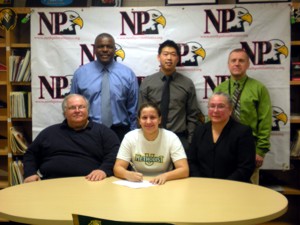 Every year, on February 1st, the NCAA hosts National Signing day, when high school athletes across the nation sign their Letter of Intent to continue their athletic careers on the college level. Not all students sign on that day, though, but decide to do so on another date. This month, four of North Point's own athletes signed their Letter of Intent to various colleges to pursue their athletic goals.
To beg
in the cycle of signings, soccer player Peter Lee ('12) signed to the prestigious United States Military Academy at West Point, commonly referred to as "Army," on National Signing Day. Lee, a co-Captain of this year's Eagles squad that only lost one conference game this season, was supported by his parents and sister, as well as many peers who have watched him play throughout his career. "He's been working so hard," stated Lee's father, who couldn't hold back a grin as Peter signed. "It was a happy moment, one we've waited on for a long time. We are thankful for everyone that supported him during his career here."
The following Thursday, February 9th, North Point Football standouts Kortez Prather ('12) and Franklin Marshall ('12) signed their letters together to play for Notre Dame College of Ohio. Both students were All-SMAC First Team selections. Those who know the pair would say that they are near inseparable, so it's no surprise that the two chose to go to the same school. "We knew about a year ago that we wanted to stay close and ball with each other," claimed Kortez, who was also named the Charles County Football Player of the Year. "Not everyone gets to do the things I do, to have the opportunity I have to go to the same s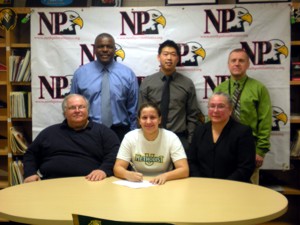 chool as my brother," Frank added.
Finally, on February 15th, Lady Eagle Julianne LoGrasso ('12), North Point Girls Soccer's sole first team All-SMAC athlete, signed to continue her soccer career at Methodist University in North Carolina. In a smaller gathering consisting of family and teammates, LoGrasso was all smiles as she inked her signature on the dotted line.
With a few more months in the school year, one can be certain that there will be many more North Point athletes signing letters in the near future.