North Point Wrestling Falls to Urbana at State Duals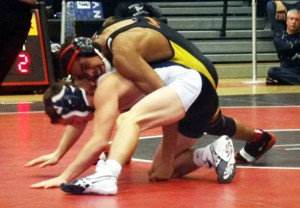 On Saturday, February 11, the North Point Eagles wrestled for the state class 3A/4A title. Their competition for the semifinal round was Urbana High School of Fredrick County, Maryland. Unfortunately, the Eagles suffered a rough loss in the first round, losing to Urbana by only three team points.
Urbana High School went on to earn the state title in a rather close match against River Hill High School of Howard County. The state champions defeated their final-round-competition 36-28.
Despite hopeful encouragement, the North Point crowd at the State Duals was minimal. Some said that if more fans had been there to show support, North Point may have performed better. Many also pointed out that Urbana had a rather large fan base, which could have added to their general overall good feeling on the mat.
Although it was a very close loss for the Eagles, the wrestlers are not taking the upsetting experience entirely horribly. "Losing to the state champions by three points really isn't as disappointing as it could have been," said Andrew Lohr ('13).  Curtis Gibson, ('12) stated, "One loss doesn't really mean that much. We'll come back for individuals doing exactly what we did to get us in the position we're in now."
When the match between Urbana and North Point was really broken down, it became clear that it completely relied on bonus points. "We won seven matches, and they won seven matches as well. What matters is you can either give the opposing team bonus points, or not," said Coach Pauole. "We gave them two sets of bonus points, but only earned one, which is what set us behind in the end."
The North Point Eagles may have suffered a loss in this year's state duals, but they are all hopeful to continue their wrestling season with open minds and encouragement. The Eagles competed for individual rankings and titles on President's Day Weekend at Thomas Stone High School.