Winter Sports: The Journey Ends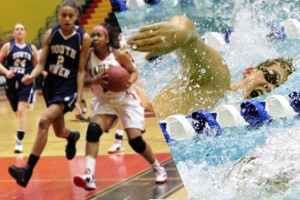 North Point's 2012 winter sports season is coming to an end. The talented students that participated in winter sports have to wait until next year to be reunited with their teammates again. Each team's season went differently; some teams lost a couple of games, matches, or competitions, while other teams managed to go undefeated.
The varsity cheerleaders had an exciting season. They placed fifth in regionals, and went on to states. The cheerleading squad developed a sisterly relationship together throughout the season. "We're like family, but then again we do have our family fights," said Ashlee Brazelton ('13). What's a family without the fights? Whatever ups and downs these ladies went through did not stop them from pumping up the crowd and supporting all the basketball players they cheered for.
The girl's basketball team had an undefeated season in SMAC, and are now going through the play-offs. There is no 'I' in team, which is why it took a team effort to come as far as they did. "We've developed chemistry with each other in how we all play," stated Tasia Butler ('13). When the basketball season comes to an end, Tasia is going to miss hanging out with her team every day after school. She said, "I love them; we're like one big family."
In the sport that brings out their violent side, the wrestlers finished the season with a record of 20-2. They almost advanced past the semi-finals during the state competition, but lost to Urbana, 27-24. "We won the last five matches but it was not enough to bring us back," recalled Benjamin McKnight III ('12). This is the senior's last season of playing this sport with all of his North Point teammates.  "We meshed so well as a team, and I'm going to miss every single one of those guys."
The participants are the ones that are scoring the points, swimming in the race, and dancing during halftime; but the coaches are the motivators that give their team the drive to do their best. Many teams look up to their coaches since they give them advice and guidance on how to progress. The cheerleading coaches know what to do for their cheerleaders. Brazelton said, "They are great coaches, especially when it comes to competitions." Not only do coaches want to see their team win, but they want to see that everyone reaches their potential. Butler said, "They keep us motivated and focused on our goal at hand." It is the coaches' job to push their team as much as needed for them to do better. "They push us past our limits and help us grow individually and together as a team," added Butler.
As the season ends, most people look forward to next year's tryouts, while others will be missing their last. Each season holds memories and accomplishments that many players will always remember.