Keeping Up with the Jones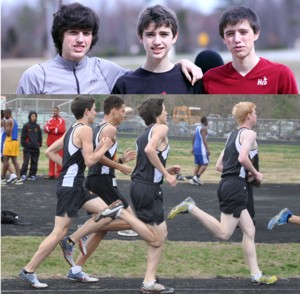 Lightning fast and furious, Chris and Patrick Jones ('13) whoosh past the masses. As twins, they confuse the crowd. They are not the only Jones' in the competition to look out for; quick as a wink little brother Thomas Jones ('15) is also coming up strong. As exceptional members of the cross-country and distance track teams, these three brothers dominate the sport.
For Chris and Patrick Jones, their first encounters to running came in elementary and middle school where they put in effort into field day events. The pacer test in gym class was one of their favorites. With a knack for competition, by sixth grade, they were running track and before long, claiming the top prizes. Ever since, the two have won countless first place awards, competed with the best runners in Maryland, and earned impressive times. In the words of fellow athlete Josh Land ('13), "Their speed can be attributed to their work ethic. They are always working hard and never giving up."
Before track, baseball was their main sport. They had played it passionately their whole lives. However, once high school track came around, it steadily grew in priority. After much deliberation, Chris decided to devote all his energy to running while Patrick continued to play baseball. However, after last year's cross country season, running drew Patrick into the sport full time. "It definitely sucked me in because I never thought I would never stop playing baseball since I was little….It is not that I don't like baseball. It is just there is only so much time you have in high school to do things."
This year as full time twins on the track, sibling rivalry is a given. Nevertheless, their driven spirits propel them to the next level as stronger and faster athletes. Though Patrick admits that his brother beats him many a time, he knows that competing head to head pushes him to work harder. Now, as Thomas Jones joined the mix, he finds comfort in running with his brothers who introduced him to the sport. "Seeing them run is awe-inspiring. It motivates me." he said. By the summer before high school, he was already familiar with most of the teammates and trained for the Cross Country season ahead.
For the future Thomas aspires to run to the best of his abilities and do has best in the races as he can. Patrick Jones aims to attend a good engineering school, and continue running in college with his skills. As for Chris Jones, he is striving for the 2020 Olympics. For the meantime, the trio are working down their times as some of North Points most impressive runners.