Eagles Fall in Semifinals, 63-65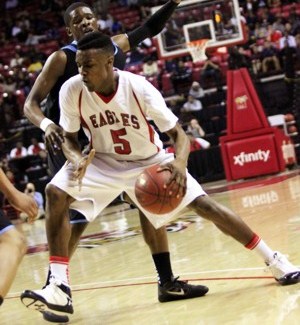 Thursday night. Comcast Center. State Finals. Sounds familiar, doesn't it?  Last season, North Point played in this very game against Magruder High School, winning the game en route to a Maryland State Championship and a perfect season. This season, the Eagles went up against the Eleanor Roosevelt Raiders of Prince Georges County for a chance to repeat.
The score was close the entire game, as there were eleven lead changes in a defensive game. In the third quarter, the Raiders took a ten point lead to put the pressure on the Eagles, who found themselves in an unusual situation.  The pressure didn't faze the Eagles as they came back and took the lead by five with three minutes remaining in regulation.
The Raiders came back to tie the game, giving the Eagles possession of the ball with 41 seconds left.  Junior guard Marquis Wright took and missed an open baseline jumper with 22 seconds left, and the Raiders rebounded the ball and called a timeout.  The Eagles played tough defense the whole game but on this play, Roosevelt guard Akil Charles found the smallest hole in the defense and took advantage with a very difficult lay-up.  With the basket made, the Eagles were forced to take a timeout with less than a second on the clock.  The Eagles threw a Hail Mary pass as a last resort play.  Naim Muhammad ('13) caught the ball but was out of bounds as he attempted the shot.
The Eagles lost to the Raiders 65-63 in a very contested, hard fought game.  The lone senior, Tre Mouton, and Muhammad led the team in scoring, with fourteen points each. The Eagles hurt themselves again as they went five for fourteen at the free throw line.  In every loss this year, free throws have been a big problem for North Point, going ten for twenty against rival Thomas Stone and eight for twenty against I.C. Norcom of Virginia. Unfortunately, this game was added to the list of losses for the Eagles.
On the bright side, the Eagles return four of five starters for next year with a team heavily dependent on the class of 2013.