Tasia Butler: Basketballer Extraordinaire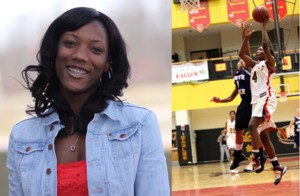 When Tasia Butler ('13) steps onto the basketball court, she not only commands it, but also accelerates the ball to lightning speeds. With a swoosh, swoosh, swoosh, she makes countless baskets. As an exceptional ball handler and shooter who is quick on her feet, she leaves the competition biting the dust. Her athleticism, teamwork, and determination has receives recognition both locally and nationally.
Before basketball became her forte, dancing was her specialty. Though she initially did not like basketball, many people in her family enjoyed playing the sport. As fate would have it, she eventually was drawn into playing ball. Starting off in fifth grade, she was a natural, with a positive attitude. Steady progress followed as she focused on honing her skills. From then on, Butler won SMAC championships, made it past third round cuts of the USA Basketball Olympic team, and earned various other accolades. "Tasia is an important member to our basketball team. She works really hard at practice and it shows when she plays on the court. She is 'an off and on the court' leader for us," said Coach Dutrow.
During the games, Butler remains focused, stays with the team, avoids frustrations, and thinks of the next plays.  She does not fret at the sight of competition, instead she looks at them has her equals. "You have to have an aggressive mentality thinking you are just as good as the next person," Butler stated. Due to her tough and determined mental psyche, opponents do not dare take advantage of her. Outside of the game, she is constantly working out and practicing with a ball at hand. She hits the gym daily, keeping in mind that there is a line of people striving to take her top spot.
For now she hopes to ride on a basketball career to as far as it will take her. After going to college, entering the league is a possibility. The basketball legends Michael Jordan, Koby Bryant, and Labron James inspire her to continue on with the sport. She strives to reach their level of success.  Who knows, the next time North Point hears about Tasia Butler, she might be one of Basketball's superstars.