Eagle Baseball Passes First Test Against Warriors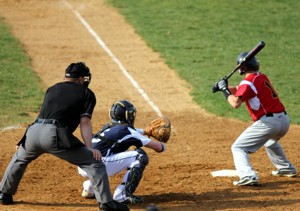 Benjamin McKnight III, Sports Editor
March 25, 2012
For years, the North Point-La Plata baseball rivalry has been one of the biggest back-and-forth battles in high school sports. Since 2007, North Point's first varsity baseball year, the Eagles was leading the series with the Warriors 5-4. As the defending 2011 Maryland 3A State Runner-up, La Plata was picked by many to be the top team in the SMAC for the 2012 season. The early season Friday matchup against the Warriors provided a good challenge for the Eagles.
Through the first three innings, North Point and La Plata were both scoreless. At the bottom of the fourth inning, the Eagles began working towards breaking the deadlock. After Austin Bentley ('14) made his way to second base, Mikey Escanilla ('12) used a sacrifice bunt to put Bentley on third base. Zachary Keeler ('12) came to the plate next, and a bad pitch by La Plata brought Bentley home to give the Eagles the first score of the game. On the ensuing pitch, Keeler blasted one over the fence to score again for North Point. By the end of the inning, the score was 2-0 in North Point's favor.
At the top of the sixth inning, the Warriors were threatening to put a damper on the Eagles shutout hopes. With two outs, a Warrior found himself on third base. The Eagles were able to hold off La Plata from scoring, though, thanks to Kevin Hodgson's ('14) pitching.
In the bottom of the sixth, North Point would find the scoreboard again. After an Escanilla double, as well as a La Plata error that resulted in a Keeler single, the Eagles found themselves in great scoring position. As Corey Hewitt ('12) was coming up to bat, junior Kahlil Jones was brought in as a pinch runner. The following pitch, Jones stole for second base, making it safely. Immediately afterwards, Hewitt connected with the ball, which traveled deep into the outfield. Jones and Escanilla both made it home, and Hewitt made it to second base, increasing North Point's lead to 4-0. After two North Point batters were walked, a single by Jeremy Remalia ('12) brought Hewitt home to put the Eagles up five on La Plata.
The Warriors had one last chance to get on the scoreboard, going up to bat for the final time in the seventh inning. The Eagles brought in Nick Huff ('12) to close the game on the afternoon. With a fresh arm, Huff took advantage of La Plata, pitching three consecutive strikeouts to close the game. The day ended with North Point conquering La Plata 5-0, registering the school's first ever shutout against the Warriors.
The Eagles improve their record to 1-1 after bouncing back from a loss to the McDonough Rams. Up next, North Point will be playing Leonardtown High School, whom they haven't beaten since 2010. This will be the Eagles second home game, which will be held on Monday, March 26th.