Lady Eagles Slip by Stone In Nail-Biter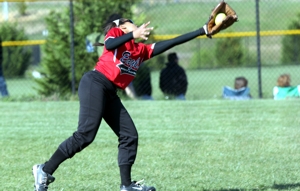 On Friday afternoon, the Lady Eagles Varsity Softball squad took the mound against the Lady Cougars of Thomas Stone High School in their one and only match up on the season. Coming off of a win against Westlake High school to end an eight game losing streak, North Point's ladies were eager to build off of the previous win with another. Six and a half innings later, the Lady Eagles found themselves high-fiving in celebration as they squeaked by the Lady Cougars in a 3-1 win.
Starting the game in the field, North Point wasted no time in providing spectacular plays for the fans in attendance. After two outs, the Lady Cougars connected on a hit that appeared to be headed towards their dugout as a foul ball. However, third-baseman Alana Hirshman ('12) was determined to catch the ball, diving and barely avoiding the fence to yield the third out by North Point's fielders. Not to be outdone by her defensive play, Hirshman used her first at-bat to bring in Emily Subocz ('14) to put the Lady Eagles on the board first, while landing herself on second base. The Lady Cougars finally ended the Lady Eagles inning, but by then North Point was beginning to find their groove in all aspects of the game.
Both teams traded outs for the next couple of innings, until the Lady Eagles found themselves on the scoreboard again in the bottom of the fourth inning. After getting to second base, a Hirshman bunt put Tiffany Butler ('13) in scoring position on third base. The next batter, Lindsay Greene ('13), brought Butler home with a hit to the left infield, though she herself was thrown out. At the end of the inning, North Point was up 2-0.
The fifth inning was just as eventful, beginning in the outfield when Greene made an amazing over-the-shoulder grab off of a Stone hit that looked out of her reach. In the Lady Eagles next at bat, Maggie Campbell ('13) used a sacrifice bunt to put Madison Zabiegielski ('13) on third base. Immediately afterwards, Subocz brought Zabiegielski home with a double.
In the sixth inning, the Lady Cougars finally found themselves on the scoreboard when a series of solid hits gave them a score, cutting the deficit to two points. That would be the only time Stone would score, though they came close in the seventh by landing a player on second base. The Lady Eagles would have none of that, throwing out the next two batters to end any hope of a comeback for Stone.
With this win, the Lady Eagles improved their record to 4-10. The next game for the North Point Softball team is against Leonardtown High School, whom the Lady Eagles beat in a seventh inning comeback one month ago, 7-6.