Baseball is Victorious Over Stone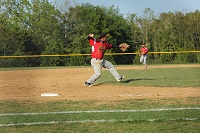 The North Point Eagles Baseball team hosted the Thomas Stone Cougars Friday afternoon as they faced off in a non-conference match up. The Eagles capitalized on multiple mistakes the Stone defense committed and made Stone pay for it as they game progressed. Luckily for the Cougars this game won't affect their SMAC record as they lost in seven innings by a score of six to one against North Point.
The game started off with both teams fighting to score first. Stone looked to do just that as they got on base from a North Point error, but couldn't take advantage. As things moved on, it was the Eagles' Kevin Hodgson ('14) who hit a long double to centerfield in the bottom of the second to give the North Point squad some life. With this, left fielder Gunnar Staples ('12) came up to the plate and brought him in as he scored a RBI double to give the  Eagles their first points of the game. Kahlil Jones ('13) then brought Gunnar home from third using a sacrifice fly that scored two runs. By the end of the inning, the Eagles had put up two runs and were now ahead two to zero.
In the next inning Jeremy Remalia ('12), North Point's starting pitcher, was pulled after giving up three walks and two hits. Relieving him was Junior William "McLovin" Hoxie who took over with a runner on first and second base. William didn't let this rattle him though as he caught the Stone runner on second off guard, throwing a perfect ball to pick him off. The Stone players didn't let this bring them down as they did come out of the inning with a run scored.
Over the next couple of innings the game progressed, but not much was done from either team on the offensive side of things. They were not making good contact with the ball; each team hit multiple groundouts, pop-ups, and fly outs. Picking things back up in the bottom of the fifth, North Point Coach Chichester made a substitution, bringing in sophomore #17 Austin Bently, who grounded out. With just one out the Stone infield was looking solid, but then disaster struck. They committed two crucial errors, giving up a triple to North Point's Mikey Escanilla ('12), and an infield RBI double to Justin Craft ('14). Catcher Zach Keeler ('12) made it even worse as he hit a RBI double to bring Craft home.
The next two innings went by lightning fast as Escanilla made a beautiful diving catch to rob Stone of a base hit in the top of the sixth. North Point added another run due to more Cougar errors and a nice play by Hamilton, who scored off of  #21 Armando Rivera's RBI single. At this point the game was pretty much over, but the Stone Coach felt the need to argue the scoring play. The argument didn't last long, and Jones collected another RBI, this time a single.
Hoxie finished what he started as the Eagles squad handled their business, ending the game in the top of the seventh with a total of six runs, ten hits, and two errors. This puts the Eagles at 13-3 on the season as they try to continue their success and fight for the SMAC title.