Bonds, Matthew Bonds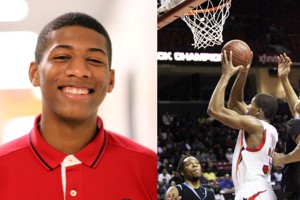 Even the toughest competition cowers at the sight of the over six foot tall, strong, and vigorous basketball player Matthew Bonds. Equipped with rapid-fire footwork, a robust frame, and firm skill set, he is a player- no, the player to watch on the court. Though he reigns supreme at the top of the basketball totem pole, Bonds retains a hard working spirit, reflecting upon and refining his abilities.
Bonds began playing basketball at the well-cooked age of six. Baseball was his main sport while basketball was his leisure activity. When his height surpassed his peers, he switched to basketball full on because it became easier for him. By eighth grade, he was playing competitively on teams. Ever since he has taken the trophy as a basketball state champion, scored twenty points and seventeen rebounds in single game, and obtained fourteen charges in one season. His power even reverberates with his teammates. "He is a good basketball player…. he put in a lot of hard work during the off season to get where he is.…He should be a huge factor to us winning that state champion next year," said Tavon Wimbish ('13). When playing basketball, a rush of energy and excitement fills Bonds' body to the brim. That same feeling is amplified with every hoop made. "I want to help my team our before personal accolades," he said.
In his sophomore year, Bonds set out on the Junior Varsity Basketball team. By working hard, making the most of his game, and aspiring to reach higher heights, he leveled up to true Varsity by the end of the season. There, he played with his older brother and new teammates, honing fresh talents and enjoying the sport. Once the State Championship rolled around, he got on the court for twenty seconds. That day, he earned his state champion title. "I learned what I need to do so that next year we would be in the same situation," said Bonds.
This year, as a key contributor in the states semi-finals games, Bonds felt the sting of defeat. "I think I was heartbroken when we lost. I think I could have been a bigger factor in helping with the game," Bonds stated. Nevertheless, he is pressing on, working now he is working harder than ever to improve. Lifting, free throws, shooting, and dribbling are all on the intense regimen to prepare for the state championships next year.
With his eyes on the future, Bonds aspires to up his game to college basketball and get a paid education. Knowing that his two older brothers did not have long basketball careers, he hopes to change the pattern and become the first brother to have a successful college experience.  It sounds like the greats will have some intense competition.