Tennis Squads Compete for SMAC Glory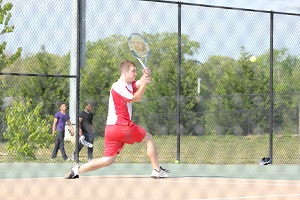 This past week at North Point, the Eagles have been involved in all sorts of sporting events as the regular season ends and they start their quest for state championships. For the tennis team, it was the SMAC Tournament that had them occupied. Everything kicked off on Tuesday as every school from Southern Maryland flocked to North Point.
Eagles Chris Levesque ('12) and Timothy Williams ('12) started day one off for North Point as they competed in the Boys' Doubles competition against very strong opponent Leonardtown, a school notoriously known for its tennis skills. The boys didn't do all that well as they couldn't hold on and lost, dropping two sets to the Raiders.  The Eagles then lost another match 2-0, but this time in Boys' Singles against the Warriors from La Plata. After watching her teammates' matches, it was time for Sarah Ferrell ('12) to play a match of her own against Westlake. Sarah found herself in a chess match as both players began to pick apart one another on the court. Eventually, Ferrell knew just what to do and she executed after taking home the first set, destroying her opponent 6 games to none in the second set to end day one for North Point
Things didn't go as planned when the next day's games were cancelled due to inclement weather. On Wednesday, beginning right where they were left off, was Mixed Doubles team Tyler Vaughn ('12) and KanDeon Niravanh ('15), competing against Chopticon. Using their speed and quick movement, the Eagles found a way to dismantle Chopticon and beat them six to zero and six to one in two sets.  Later that day Ferrell found herself playing in another singles match against Calvert, but didn't replicate the same success as on Tuesday, losing two to zero in straight sets. However, she did manage to take home two games after being down 5 to zero in the second set. Shortly after came the girls doubles team, consisting of Vicky Park ('12) and Natalie Griffin ('12), who took the court against Calvert. Both Park and Griffin made quick work of Calvert as they got ahead and stayed ahead, beating them in two straight sets. After this, North Point then received another two losses, this time in Girls' Doubles and Boys' Singles.
At the end of day two, the remaining North Point Squads in the tournament began to dwindle as there were only 2 teams left: Girls' and Mixed Doubles. Over the next two days, there wasn't much to celebrate, as the Girls Doubles team was knocked out and the Mixed Doubles team was on its last lifeline after losing two straight matches. Fortunately for them, they battled back and were able to win their match against Stone and qualify for Regionals. Vaughn said, "We played well. We won two games, but not well enough because we did lose two games. Vaughn also added, "It is my first year on the tennis team and it's very humbling and also an honor that we played well enough to get to Regionals and compete for North Point there for the first time in three years."