Boys Varsity Soccer Hits the Turf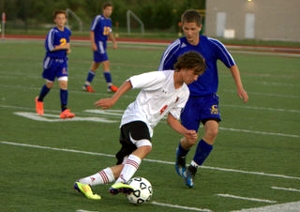 They Boys Varsity Soccer team is back in business, led by Coach Lesko, who has been coaching the team for six years. The team captains for the 2012 season are Trevor Harris ('13), Collin Bingham ('13), and Kyle Jones ('13).  The team's standings are respectable at 1-1-1.
When the team plays, they all are working together and contributing 100%.  "I love playing soccer, especially with all of my friends on the team because we can have fun while we are working hard," commented Lawry Denyer ('14).  Several play makers to watch are Trevor Harris ('13), Ricardo Summers ('13), Collin Bingham ('13), and Kyle Jones ('13) on offense.  Defensive players to keep an eye on are sibling duo Christian Fisher ('15) and Austin Fisher ('13). "Both Christian Fisher and Austin Fisher have come a long way," Coach Lesko said.
The main rivals for the soccer team are Westlake High School and La Plata High School.  "I think that it will always be Westlake just because they are North Points' main rival," Coach Lesko stated.
The Varsity Boys Soccer team has had a great year so far and will be striving to get even better. The team is gearing up for SMAC and aiming for a title.  "We are looking forward to playing against Leonardtown High School, Great Mills High School, and Northern High School. They should all be interesting games," Lesko commented.  Denyer also agreed with his coach, "I am looking forward to playing Leonardtown. They are a tough team…I think it will be a great game."
These games promise to be highlights of the season, but they also know not to put all of their eggs into one basket.