Courting Victory: Coach Serpone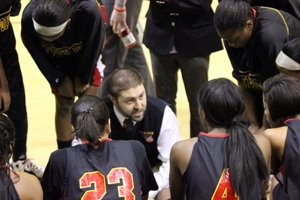 Last March, as winter ended and the sports season wrapped up with it, the North Point Girls Varsity Basketball team found itself a hair's breadth away from clinching a spot in the state finals. Unfortunately, its hopes were dashed when it fell to Dr. Henry A. Wise Jr. High School in 64-62 nail biter during the semi-final round.
But that was then and this is now. During the current season the team, now fourteen games in without a single loss, plans to claim the title of State Champion once and for all. If and when it does so, much of the praise will have to go to Coach Serpone, the team's head coach and North Point's sole Advanced Placement World History teacher.
This is Serpone's third year in his position, but it fits him like a glove. He grew up with the game, having played basketball since he was five. "I always wanted to be a coach," he said. After high school, he quickly made his dream a reality.
His players have an obvious reverence for their coach, but are quick to note that he plays no games. "He's very firm," said Kandeon Niravanh ('14), a guard on the team. "It's do this or you're going to be on the bench." "Yeah, we don't mess around," Serpone echoed with a grin.
Ryan Bruce ('13), a member of the "chest painters" group and North Point athletics enthusiast, described Serpone as "pretty much the most intense guy I've ever seen." But, indeed, the coach has fans. At the last game, they waved huge paper signs boasting Serpone's face on them, causing him to be both amused and bewildered.
Not "messing around" is his strategy to finishing the season on top. "We expect to be going into the playoffs 22-0," Serpone said confidently. Referencing the team's progress so far, Serpone said, "We've been progressing well. We're not necessarily where we want to be yet, but we don't want to peak until the playoffs anyway." He added that the team has much to work on, but also has the luxury of having more than enough time to do so.
Though the team's defeat last year came at the hands of Wise, Serpone noted that the main rival is Calvert High School. "We've had a good back and forth with them in the last few years," he said. The games are competitive and hard to predict. The next North Point-Calvert match is January 30th at 6:30 pm.
After that, in Coach Serpone's mind, there is one goal: "To get to the state finals and get back to business."