Basketball Stars Attempt to Go All-American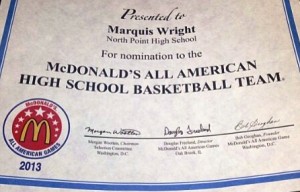 Tasia Butler ('13) and Marquis Wright ('13) have been given the McDonald's All-American Nomination. Butler and Wright are two stand-outs on the girl's and boy's varsity basketball team. Their skills are what got them noticed for this award.
The McDonald's All-American Nomination is given to the best senior basketball players in the whole country. Of those nominees, twenty-four players will be chosen to actually be on the team and play against each other. "It is one of the highest honors recognizing the best players in the country," explained Butler. Wright said "It will be a great accomplishment to make it in the McDonald's All-American game."
Just being nominated is a big deal. Out of all the seniors that play high school basketball, less than five percent are nominated. There is a nomination committee that consists of writers, evaluators, and coaches. If a nominated player receives two votes from members of the committee, then they are on the team.
Many NBA and WNBA players of today have played in that game, including people like Michael Jordan, Candace Parker, Lebron James, Kobe Bryant, Dwayne Wade, and many more. Just like Butler and Wright, these people received a nomination their senior year, now they are playing or played professionally.
The basketball game will be televised on April 3rd. Hopefully these two candidates are selected so they can put North Point on the map. Butler said that she thinks she will do great if she was picked. "I would try to represent North Point well and go for the game MVP." Wright also believes that he will do well, "I played against some of the best players this summer during AAU season and at this Nike camp I went to. I think that will help prepare me." After high school, Wright will be playing division one basketball at Loyola University, while Butler will be playing at Syracuse University.
Having not one but two players nominated for this rare award is pleasing to them and their supporters. It also shows what kind of players the basketball teams have, and it explains their undefeated record. Butler and Wright are the first two from North Point to receive this nomination. They will find out if they made the final roster on February 14th.