Wrestlers Take Opponents to the Mat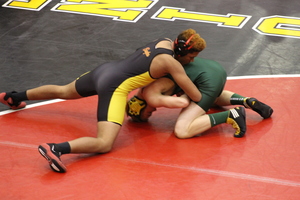 People say that all the fun started on Saturday, February 9, 2013. But it really started on the Friday before, when the head coach of the wrestling team dyed his hair blond. "It was for the state dual meet," coach Pauole laughed, "Next year it will be for regional championship."
On the 9th in the North Point gym, high schools from all over the state gathered to see who the best of the best was at the State Dual Meet Championships. With the teams warming up and crowd cheering on their favorite teams, things are looking pretty good. "People say that it is easy to wrestle but it's not," Maddie Boelke ('15) commented. "The guys have to work really hard to be able to do this."
The first match was North Point versus Damascus High School. "If there was one thing that I could have changed about the match it would have been that we wouldn't have started in the middle (145 weight division)," Coach Pauole stated. "I would have rather started at the top or bottom."  North Point lost to Damascus 24-9, meaning that the team was eliminated from the remainder of the tournament.
On Friday, February 15, 2013 the SMAC tournament began.  North Point's cheering section was pumped, full of cheering fans ready for a good night. As the matches continued through the night North Point was able to win all of its matches no problem. Next day, the SMAC tournament continued. Because of inclement weather the championships were pushed back, but the teams and fans were all good sports and happy that the tournament was going to continue. At the end of the matches, the winners were announced: Tyler Morgan ('14) was the first place winner in the 132 division.  Malachi Edmond ('14) received second place in the 126 weight division and Chris Simms ('13) also received fourth place in the 160 weight division. Travis Bonds ('13) also received fourth in the heavy weight division.
Don't forget to wish the wrestlers good luck when they travel to Bladensburg High School on Friday 22, 2013 for the 3A/4A Southern Regional Tournament.