Two Loves at the Same Time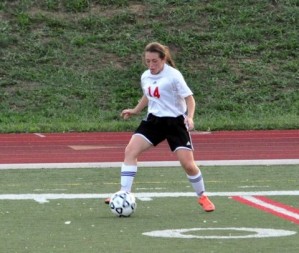 Senior Sydney Perry has two loves at the same time. Her first love was soccer –  she was introduced to the sport at a very young age. Later she found lacrosse, which seemed to be love at first cradle. The two sports greatly differ from one another, which explains why Perry's reasons for loving them are not similar.
When Perry was five, she began her soccer career. Her parents are the ones that got her started and she loved it since then. Her favorite characteristic about soccer is the team work. "What I love most is being part of a team. I love that every game we are all in this together. Win or lose," explained Perry. "In each play the whole team has to work together."
When Perry was twelve, her soccer teammate's dad asked if she wanted to join a new lacrosse team he was putting together since Charles County did not have one at the time. Perry feels that lacrosse is the sport she is better at. She said it came more naturally to her; she picked it up right away. "I always wondered how much better I would be now if I started the same time as I did soccer."
A difference that lacrosse has from soccer is the pace of the game. Lacrosse's pace is faster than soccer's. That is one of the things Perry likes most about the game. "Soccer games could be decided by one goal, but in lacrosse, if we get scored on it is easy to shrug it off and go score twice on the other team," said Perry.          
With every sport there comes a challenge. The challenges that Perry faces with lacrosse and soccer are caused because of her mental and physical characteristics. For soccer it is her nerves. "During close games I get really nervous because I do not want to disappoint my team, and I end up making stupid mistakes that I would not have if I was more relaxed." For lacrosse, her height makes things more challenging. "I am really short, and lacrosse is a tall girl's game. I have to jump higher to get control and I have to rely on my speed to get around girls; they could easily stand over me, making it hard for me to pass."
Throughout her many years of playing these two sports, Perry has had several major accomplishments. This past fall, she helped the girls' varsity soccer team win SMAC for the first time, go undefeated at home, as well as helping them go the furthest they have ever been in the playoffs. "I was named all county defender, which I was really proud of," she said. Perry has been on the girls' varsity lacrosse team for all four years. The newspaper said that she was a player to watch for this upcoming season. "My biggest accomplishment was this past summer. I have been recruited by quite a few college teams." Perry plans on trying out for West Virginia University's club lacrosse team when she attends next school year.
Soccer and lacrosse have been a part of Perry's life for a very long time. There is no other sport she spends her time playing like she does with these two. "With playing two sports, there is no time for a third."