All You Need is a Ball, a Bat, and a Softball Team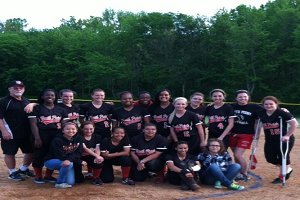 Have you ever seen two sisters hanging out together? How they will joke around, laughing, and overall have an awesome time. Well that is the perfect way to describe the Girls Varsity Softball team. This year the captains are Marquella Allen ('13), Kelcey Bouvard ('13), and Maggie Campbell ('13). "The seniors definitely help out with the team," Coach Corbelli stated, "They share their knowledge of the sport with the younger players. They also lead by encouraging the younger players through the game."
The head coach is Mr. Jones, and the assistant varsity coach is Ms. Corbelli. Mr. Jones has been coaching the girls' team for seven years now, "Coach Jones is an amazing coach! He always has our back and is always to help us get better." Devin Heilmeier ('15) stated.
This year the Girls were able to beat North Point's rival, Westlake High School. When watching a softball game,  sometimes you will see a girl strike out or hit a grand slam. You will hear the girls cheering on their teammates, keeping them pumped and positive. Maggie Campbell ('13) explains that "When we are in the dugout cheering for our teammate up to bat and they may have struck out once or twice but then they get that BEAUTIFUL hit and you watch their face glow with satisfaction."
The  practice during the season was "a lot of fun," Heilmeier ('15) explained, "We learn a lot from one another and we are able to have fun but serious practices as well." The Softball team had a 15-1 season so far. When they headed into the play offs they didn't take the intensity level down "the girls were working very hard to get ready." Coach Jones stated. "They could have quit but they didn't."
"It was intense and we knew every moved mattered. We played as a team and I could not be prouder of my girls!" Campbell ('13) recalled.
Even though the Softball team maybe done and over with for this season, the friendships that were made will not stay on the field. They will travel with the team till next season. "Once a softball girl, always a softball girl; we have got each other's backs no matter what." Maddie Boelke ('15) stated.