Eagles Boys Basketball Returns 2016-2017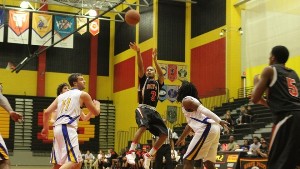 Hang on for a minute...we're trying to find some more stories you might like.
North Point boys basketball has been very good over the past few years. The Eagles have excited crowds with their amazing play. There have been some great players who went to North Point and moved on to greater heights. Lamont McManus and Malik Brown are just a few players who were very successful.  The Eagles have started the season off right, defeating Huntingtown by a score of 73-66. The team has been known for their aggressiveness and quickness, and have established themselves as a great team down low in the paint area. North Point has a new look roster for the 2016-17 season , but they are bringing back a few returning players. One of those players and a player to watch out for is Senior shooting guard Jalen Gibbs. Gibbs has been on varsity for three years. Gibbs is very well known for his great shooting ability. He can spot up and knock down three pointers from anywhere, exciting the Eagle crowd. But Gibbs does more than just shoot. Gibbs is also known for his ability to set up his teammates with amazing court vision. North Point also brings back Senior guard Jonathon Wallace. Wallace played some important minutes off the bench for the Eagles last season, and will look to work his way into the starting lineup this season. Wallace is great at finishing off the glass while also cleaning up with a bunch of rebounds. Wallace also gets back and plays great defense against his opponents. The Eagles are of course led by their head coach Jimmy Ball. Ball has been head coach for 12 years now. Crowds can see Coach Ball yelling out something to the players on the floor and during timeouts. Coach Ball is seen a lot kneeling on the sideline watching the action unfold. Ball has led the Eagles to the Playoffs and a State Title, as well as County Champions. This year, the Eagles look to go even further. The Eagles will be back in action tonight visiting the Chopticon Braves at 6:30 pm. Don't miss the Eagles next home game this Friday December 9th when they take on the Gwynn Park Yellow Jackets at 6:30 pm at North Point.  Come out and support your North Point Eagles as they look for a great start to a brand new season.