Eagles Boys Basketball Keep Composure and Overcome Chargers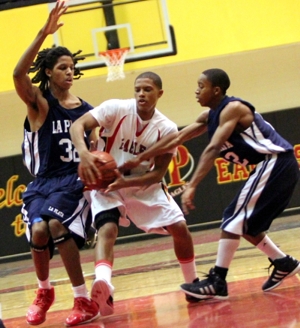 Hang on for a minute...we're trying to find some more stories you might like.
North Point Boys Basketball has seen its ups and downs in the early stages of a new year. The Eagles were off to a great start at 3-1, but dropped five straight games. They got back on the right track in their last road game, defeating the Lackey Chargers 82-73 in an intense contest. North Point was led by Senior Guard Jalen Gibbs, who finished with 33 Points, 12 Rebounds, and 3 Assists. Sophomore Point Guard Malik Lawrence had a steady performance with 22 Points, 2 Rebounds, and 4 Assists. This game went back and forth and had a chippy side to it. The Eagles took a 22-20 lead after 8 minutes and a 43-36 lead at the break. Gibbs overcame a technical foul, colliding headfirst with a fan, watching that fan be ejected. "It was a good win for us," Gibbs said. "It was an intense game, but a good win for our team, and puts us back on the right track". Head Coach Jimmy Ball made sure Gibbs was calm and focused on the task at hand. Gibbs hit a few three pointers in the second half, and essential free throws late to ensure the Eagles knocked off the Chargers. The win snapped a four game losing streak for the Eagles, who improved to 4-6 on the season. The Eagles will look to build off that momentum and continue the strong play on the road against Great Mills High School.