Jalen Gibbs North Point All-Met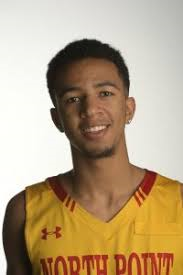 Sometimes you have a lot of struggle to get to the top. You work hard day in and day out doing absolutely everything you can. But that doesn't mean you always will get what you're looking for. However, for Senior Basketball Star Jalen Gibbs, success and hard work started at a young age, and  after having yet another outstanding season, he has earned another great accomplishment by being awarded with 1st team All-Met honors. All-Met honors are given to players within the Maryland, DC, and Virginia region. Gibbs was voted in by several coaches and becomes only the second player to receive this award from North Point, along with Marquis Wright (Siena College).
Gibbs was on Varsity all four years and continued to get more and more impressive as the years went by. In 89 games, Gibbs scored 1,534 points, grabbed 484 rebounds, dished out 270 assists, and took 165 steals. Gibbs has deadly range from behind the three point line and was a force to be reckoned with. Gibbs could create his own shot and excited the crowd with his play. If Gibbs was open, there was a pretty good chance he took advantage.
In the 2016-2017 season, Gibbs was absolutely incredible, and all fans in attendance could see just how talented and well rounded a player he is. In 22 games this past season, Gibbs scored 621 points while he averaging 28.4 Points, 225 total rebounds and adding in 3.3 assists per game. What is really impressive about Gibbs is he can do everything on the court. In some games, he would take control of a game early with his shooting. In other games, it was his great teamwork, helping set up his teammates that led Gibbs and the Eagles to success. There was never a lack of effort on the floor from Gibbs. He was a great leader for his team picking up his teammates and keeping them fired up throughout the game. He led his team to success and played with amazing passion. It meant a lot to Gibbs to be out on the floor with his teammates doing what he loves, and this is an award that is well-deserved. Eagle basketball couldn't ask for a better leader. Gibbs recently committed to Drake University and hopes to continue his success there. Congratulations Jalen Gibbs on a job well done!