Super Bowl Recap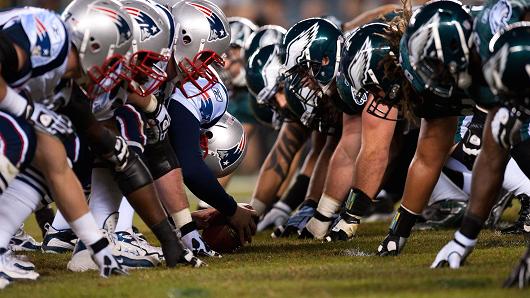 Super Bowl 52 was played February 4, 2018 between the Philadelphia Eagles and New England Patriots. It was an upset of epic proportions. Leading up to the game , the Patriots were heavily favored to be the winners of the big game. With star quarterback Tom Brady and future hall of fame coach Bill Belichick, New England seemed to be an unstoppable force to be reckoned with. This made the Eagles' victory even more surprising.
Super Bowl 52 was exciting all throughout the game. Tom Brady threw for over 500 yards while Eagles quarterback Nick Foles not only threw for 3 touchdowns, but also caught one on a crucial fourth down that shifted the momentum. "Tom Brady played a good game, but I feel like he could've played better. Maybe New England would have won. But it was still a good game," said sophomore Michael Foxx. Three field goals were missed in the first half, and each one could've made a difference in the outcome of the game. There was only one punt the entire game, piling pressure on both defenses to play all downs like their season was on the line, which it was. Needless to say, although many people were disappointed that New England made it to another Super Bowl, the quality of the game made up for it. The entirety of the game consisted of endless amounts of action, drawing you in even if the only reason you tuned in was for Justin Timberlake's halftime performance.
It was a battle of the offenses, and the Eagles not only won, but they also dethroned arguably the greatest quarterback of all time. Philadelphia had a total of 538 offensive yards while New England had 613, combining for a total of 1,151. Out of the 21 total possessions, only 7 of them didn't end in points being scored. The Eagles were very successful with the passing game, being led by backup quarterback Nick Foles, who was only playing because starting quarterback Carson Wentz tore his ACL during the regular season. Foles had a lot of struggles in his career leading up to this season, but the games he played this year showed he can be a starting quarterback in the NFL, especially in the big game. His perseverance helped the Eagles end their season as champions.
The underdog victory that Philadelphia was able to achieve will forever cement them into NFL history. "I feel rejoiced and relieved. I had high hopes we would make it to the Super Bowl and now our dreams have finally come true," exclaimed sophomore and Eagles fan Tehmina Willet. Not only did they win the first Super Bowl in franchise history, but they also got revenge on the Patriots for when they upset them in a crushing 24 to 21 loss in Super Bowl 39 more than 13 years ago. This season's Super Bowl was not what everyone expected it to be, but in a good way. Everyone expected the Patriots to dominate. The Eagles came in to the game calm, focused, and resilient as they soared to victory, ending a fairy tale season the perfect way.