Cleveland vs Golden State…Again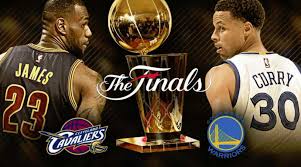 After a long 82 game regular season and three playoff rounds, the NBA Finals have finally arrived. This year's series will put the Golden State Warriors and Cleveland Cavaliers against each other for the fourth year in a row.
This year brings just as much suspense and drama as the previous years. The Warriors have the Cavaliers beat, two championships to one, and they are currently up in the series 2-0. This has become one of America's great sports rivalries, as most people either hate or love these two teams. Both teams are heavily criticized for creating "super teams", or teams that build their roster during the off-season by signing all-star players. "Golden State has four all-stars and five hall of fame caliber players on their team. I feel like the NBA should do something to break this team up. They put other teams at a disadvantage," voiced sophomore Bradley Brown.
This is the reason both teams have made the finals for four years in a row. "I think its boring and repetitive seeing the same two teams for four years in a row," complained sophomore Tennyson Thompson.
This year, the Finals have been very suspenseful. Game one saw what is one of the greatest and costly mistakes in professional sports. With seconds to go before the end of regulation, Cleveland point guard George Hill was at the free throw line. He made his first shot. After that, he missed the second one. The rebound fell into the hands of Cavaliers shooting guard J.R Smith. Smith took the ball and dribbled out to mid court before frantically throwing the ball out to a teammate who shot a heavily contested three-pointer as time expired, prompting an immediate and emotional response from LeBron James. As the game went into overtime, the Cavaliers were just simply outplayed, as Golden State took home the first win of the series even with a 51-point performance for James. In game two, the Cavaliers continued to struggle. LeBron James only scored 29 points this game, and Stephen Curry drained nine shots from 3-point range. Cleveland has continued to struggle.
With game 3 on Wednesday in Cleveland, the pressure has been turned up for both teams. Will Cleveland come back from being down 0-2 as they've done in the past, or will the Warriors close out the rest of the series and become world champions once again?