Student Diversity Club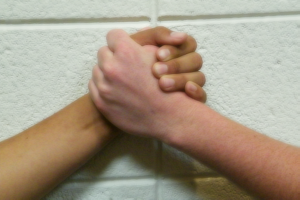 For a school in a suburb the size of Waldorf, North Point is a very diverse institution. In our classrooms are students with heritage in Egypt, Nepal, Korea, Ireland, Pakistan, the Philippines, and so many other areas around the world. With such a vibrant mix of cultures, it's no wonder that a club was created to examine what race and ethnicity means in our society, and in our high school.
Student Diversity Club has been meeting since December, but very few know of its existence. It's sponsored by Mr. Felicitas, who occasionally helps to jumpstart student discussions during meetings. Yadira Coleman ('12), a regular club attendee, says that they do a variety of things each time. "We have discussions, but we've watched two movies in our past meetings."
At last Monday's meeting; students watched a documentary called "Ethnic Notions," one that Mr. Felicitas has shown to adults on other occasions. The movie chronicles the role of theater and caricature in reinforcing ethnic divisions throughout America's history. Not exactly a lighthearted film, "Ethnic Notions" struck attendees in different ways. For Devaunte Briscoe ('11), a student diversity club newbie, some of the film's themes were disturbing to watch. "The fact that they had children's books talking about 'eradicating [n-word]s' probably hit me the hardest." That scene in the movie was one of several that displayed the sentiment of the 'good ole days.'
Coleman, on the other hand, was glad to have her eyes opened by the film's information. "It's so enlightening—[You] never really [think] about things [this] way until you see these movies and you're like, 'Wow, there're so many things that are wrong with society that you never thought about.'"
These societal faults are in no way exclusive to one group of people. Mr. Felicitas tells the students that, "Every culture has some of these images in their movies; this kind of…" he searches for the right word, "…history." But that's precisely why groups like Student Diversity Club need to be formed. "It's about understanding that you gotta know where you came from," Mr. Felicitas insists. "You gotta know where you came from before you can move forward."
Besides talking about racial issues, club members also discuss gender and religious issues; and how certain groups are portrayed in the media. It seems that the lack of tolerance toward people who are different can be attributed to the absence of these conversations in daily life.
"We don't have what are called 'courageous conversations; we don't have discussions like this," said Mr. Felicitas. But, according to Kirk Delrosario ('10), "We are becoming a more politically correct society." Now is the time to overcome inane prejudices, and having groups like Student Diversity Club, where young people can talk about these social issues, can help combat the judgmental thinking in our world.
Ultimately, the way to changing society begins within us. As Delrosario says, "We must fix these problems we have within our own community…by doing what no other people, no other race can do for us—and that is to clean ourselves up."
The Student Diversity Club meets every other Monday in room 311 from 3-4:30 p.m.