A Walk in the Garden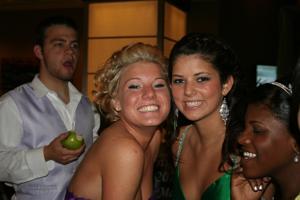 As the sun begins to set over Maryland's shores, North Point's upperclassmen are just beginning to arrive at the Westin-Annapolis Hotel—the scene of romance and chance for the night of May 8th.  
              Couple after couple stepped from dark limos, ready for the valet to take their vehicle. Groups of giddy friends descended from party buses. Corsages were admired, dresses were fawned over, and guys compared the fly-ness of their tuxes. As students waited to have their tickets checked by teacher volunteers, they could feel the promises of the evening in the air. 
"I gotta feeling…that tonight's gonna be a good night…" 
              Students followed the thud of the music into the ballroom. The area was dimly lit, with tall pub tables dotting the room. Dainty flowers floated in bowls of water set on the tables. For Christina Hopkins ('11), this was one of the most intriguing parts of prom—the arrival. "When I first got there—seeing everything was really exciting and seeing how everyone looked […] was really fun."  
              The smaller venue seemed to create an intimate setting for the prom attendees. "I thought it was very pretty; it was very well set up compared to last year," said soon to be NPHS alumnus Will Tomlinson ('10). "It was a little small, but it didn't end up being a big deal, and the food was really nice." There was a mass array of finger foods—veggies artistically arranged in shot glasses, fruits towered up in large vases, and other canapés set on the tables to supply a quick boost of energy before returning to the dance floor. 
"Somebody call 911…shortie fire burnin' on the dance floor…oh ooh oh ooh…" 
              The DJ pumped music from the head of the dance floor, where colorful strobe lights flashed over the gyrating crowd. Several students struggled to move in the same direction for the "Cha Cha Slide". But everyone could move to jams like "Omg," by Usher, and the T-Pain/Flo Rida hit, "Low". Occasionally, the moving bodies slowed when only vaguely familiar tunes began to emanate from the speakers. 
"Play that funky music white boyyyy……" 
                After a hesitant pause, students realized they might've heard their mom or dad play this song once before…but wherever they'd heard it from—it had a good beat, so that meant you could dance to it! 70s hits wouldn't rain on this parade. 
              "Some of [the music] was kind of old," Tomlinson admitted meekly, "but everyone can dance and everyone had fun. I didn't really mind that it wasn't quite as new or anything so it was good." 
              Will Still ('11), who took part in planning this year's Prom (and was later crowned Prom Prince), agreed that the older music wasn't much of a dilemma. "[Prom] came out really well. The music was…not as great as we thought, there was a lot of oldies. It was still good; you could still dance to it and all that." 
                The supervising vice principals had no problem jamming along with students to tunes like "Brickhouse" and other songs from earlier generations—although it might have been a little awkward with Marvin Gaye's 1982 hit, "Sexual Healing." 
"Please don't stop the music, music, music…." 
              Time flew by. Suddenly, 7:30 became 11:30, and it was time to go. Some students continued celebrating at after parties, others regained their freshly-burned calories at 24-hour IHOP's, and others still took the contented limo ride home. Prom was over, but the memories would last forever. The evening was, in short, a night to remember.