Back to School, Back to the Grind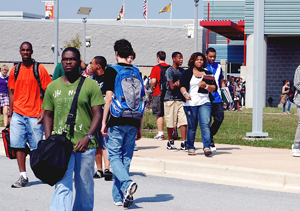 For most students, the ten weeks of summer are a time of rest, relaxation, travel, and general contentedness. All things come to an end eventually, and summer is certainly no exception. As school gets rolling once again, students reflect on their vacations and the 180 days ahead.
"I was actually pretty psyched to come back to school," said Courtney Aceto ('13), chatting excitedly with friends in homeroom on the third day of the year. "I hadn't seen all of my friends since the end of last year."
Bri Busch ('13) exhibited the opposite end of the spectrum. In regards to returning to North Point she said, "I really didn't want to come, I really didn't. I was enjoying my summer." However, she continued, "In a couple weeks I'll be glad I'm not sitting and doing nothing."
Alphonso Gaston Lopez ('13), class officer, had quite a lot to say.  When asked about his feelings to coming back to school, he explained his ambivalence.  Though there was a certain fear of the new, he couldn't help but believe that "there is always something to look forward to." He looks forward to new social experiences, and sets the goal of balancing "life as a scholar, and being a friend."  He is "realistically optimistic" about joining school yet again.
For freshmen, this year marks even greater changes. Tahirah Johnson ('14), looks forward to joining Glee club and Dance club. She's also "excited to meet people and catch up with old friends." She is apprehensive about some aspects of school, though. "I'm scared that they're going to be hard," she said in regards to her classes this year.
Samantha Lawler ('14), though a little nervous about starting school, says the new experiences are exhilarating.  Her favorite class so far is Art 1 because of the new experiences provided, and already has some advice for her fellow newcomers-students along with teachers.  She says to not be frightened, because the year will begin so much worse than it needs to be.
For North Point veterans, this year's most significant adjustments have to do with NEST, the new hour long lunch. The first few days of school were used to work out the kinks in the system, including long lunch lines and crowded hallways. Opinions remain mixed on the subject, with students both strongly opposing and supporting NEST.
"I like the concept, but I wish it were more structured. I really do like the clubs during lunch instead of after school, because it saves me homework time," said Elizabeth Burgess ('13), who staked out a place in the crowded Fine Arts hallway during Wednesday's NEST.
After speaking with upperclassmen and incoming freshmen, the same conclusion comes to mind: work hard and do your best and you will fulfill your academic expectations.   However, it was also advised to balance academics with enjoyable clubs and/or sports.  Just remember-school is important, but it becomes a lot more fun when you get involved.  Join a club or try out for a sport.  Do something to get involved, and remember that "THE REAL WORLD STARTS HERE!"