All Around the World (Hey Girl)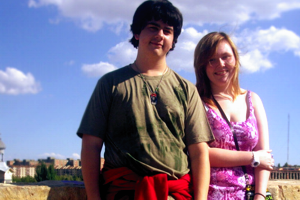 It seems the summer flew by for many of North Point's students, and now the school year has begun, full speed ahead. Many students made fond memories over their summers, whether at camp, or at a relative's country home, or, in Europe. Maddison Stinson ('12), Owen McIlmail ('11), and Moriah Rochlinski ('11), are three of several of North Point's students who seized the opportunity to travel abroad this summer.
For Stinson, her time in England and France was the highlight of her summer. "I went to London, Paris, and Canterbury." She, along with several other students, flew across the pond with their French teacher, Ms. Collins, who had wanted to take some students for a while. "It was my first time taking a group of students as a chaperone," she said. "I felt like it was a good opportunity, so I planned [the trip]."
"We had an amazing time," Collins reminisces. "We spent four days in London and then we traveled to France through the Channel. We spent the remainder of our trip in Paris, and we had a nice, gregarious tour guide. Everyone had a good time."
While in Europe, the group got the opportunity to see several of the continent's main attractions. "We really did all the sight-seeing, like Big Ben, House of Parliament, all that good jazz, Buckingham Palace, the Eiffel Tower," says Stinson. "I feel like I was always in the Eiffel Tower when I was in Paris," she chortles. Collins enjoyed taking students to see an impressive Parisian church during the last leg of their trip. "I took a group of students to the Sacré Coeur—that's the Sacred Heart Cathedral. It's actually the highest point in the city. We went to café afterwards and we were surrounded by artists—it was just a really great way to end the trip."
Stinson was quite glad that she got a chance to see the catacombs. "They are freakin' awesome!" she exclaims. "Before you go in, you walk down a few thousand feet of hallway before you actually get there, and it keeps going straight down…" The eeriness increases… "It's all wet and you're wearing flip flops and then you get there and in French it says 'The Land of the Dead'. And then it shows skulls and bones everywhere—it's really cool…they have crosses made out of skulls."
Although the catacombs were fierce contenders to sway her favor to France, Stinson says her favorite part of the trip was London. "London. Period. London is like the most awesome place on Earth. There's something for everybody in London because it's really metropolitan, and the London Theater is amazing."
McIlmail and Rochlinski weren't too far from Stinson when they studied abroad in España. "We went through the program EdueSpaña which contracts out the language school Enforex, which is located in Salamanca, Spain," McIlmail said. The two studied among other exchange students who were from France, England, Holland, and Hong Kong.
McIlmail relates the craziness of their first day in another country. "Our first day was kind of hectic. Our plane was delayed three hours. Then we had to take a four-hour car ride in the middle of nowhere. And when we got there they put us in the wrong hostel."
After that mishap was cleared up, the trip seemed to look up. Although there were plenty of activities to keep the two students entertained, summer life in Spain was not all fun and games. McIlmail and Rochlinski still had to mind the fact that they were studying abroad in Spain just for that, to study. School was a central part of their daily lives.
On their first day at Enforex, both McIlmail and Rochlinski took a placement test to measure their proficiency in Spanish. The results of the test determined the level at which they spoke and understood the language, and from there the learning began. "Class starts around nine, then you have two blocks of grammar and oral lessons, and then you have two blocks of the same thing with a different teacher," McIlmail recounts. "We were in the intensive program so we had to have another block of culture, and then you're free to do whatever you want for the rest of your day." In their free time, the two toured the city, tried out different foods and hung out with other exchange students in their apartment.
When Rochlinski and McIlmail weren't dining out, they usually came home from school to eat with their Spanish families. Afterwards, they'd go explore the area. "From two to five-thirty pretty much everything was closed because it's siesta. So you can't really do anything except for walk around, and that's what we normally did," Rochlinski says. "We went to the Plaza Mayor , which is like this giant hotel that's a big square with open space all in the middle, and there's little cafés and shops all around the bottom part. We just walked around there and sat on the benches.
"[Siesta]'s when people are supposed to take a nap in the middle of the day, but only old people do," she says wryly. "It's kind of like a break, so all the stores shut down, all the restaurants and everything closes so everybody can have a break in the middle of the day, 'cause everybody stays up way too late. Even old people stay up 'til three o'clock in the morning at cafés," Rochlinski relates with a laugh.
When McIlmail and Rochlinski went out to eat, sometimes it was automatically assumed that their American palates were not up to par with the Spanish tongue. "Everywhere we went they would give us ketchup. They were like, 'You can't eat our food so you need ketchup.'" Occasionally this led to the tomato-paste knock off being drizzled over every dish the two ordered.
But even with funky, over-ketchup-ed foods and misguided transportation, McIlmail, Rochlinski, and Stinson were much diverted in their adventures overseas. For Stinson, it will be an experience in her life that she'll always remember.
"How could I forget it? It was my first trip overseas and I'll never forget—amazing."