FBLA Opens School Store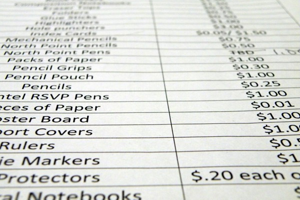 Pencils and pens featuring the North Point logo lie on the counter as Jelon Trumble ('14) skims over a price list at the school store.
Sponsored by the Future Business Leaders of America (FBLA), the store opened during N.E.S.T this year and boasts a wide variety of basic school supplies from ballpoint pens, high lighters, and erasers, to book covers, hole punchers, and notebooks- all for under three dollars.
"I like that its convenient," said Bethany Bowman ('13) as she purchased a book cover. "[it's] easy to get to and you can catch up on your back to school shopping."
What makes the store convenient is not only the low price range, but the location of the store. "Since it's right across the cafeteria, kids can get what they need as they come to and from class," stated FBLA Treasurer, Latanya Trojanowski ('11) who, along with Treasurer Brandon Richardson ('11) and Vice President, Shantell Springfield ('11), runs the store when it is open for business.
The store not only provides convenience for student shoppers, but it also gives FBLA members business experience. "Most of the organization's members want to pursue a career in the business environment," explained Sponsor, Mrs. Pierce, "The school store helps them learn how to run a business, manage finances, inventory, and employees."
In its third week running, the store sold more than 70 items. "I expected that the book covers would be our highest selling item," exclaimed Springfield who was excited to see her predictions come true.
Though finances are a main focus of the school store, Trojanowski enjoys the customer service aspect of it. "I really enjoy interacting with people," she smiled as she counted the change in her hand. "Helping the customers get what they need is fulfilling- and not to mention, the people I work with are fabulous!" added Richardson.
The profits are directed towards paying the fees necessary to participate in various FBLA conferences and competitions on regional, state, and national levels."[It] helps pay for all the different activities we partake in," added Mrs. Pierce, "We'll be competing in the Enterprise category this coming January and we'll be using the school store to compete."
Apart from competitions, FBLA members as well as student shoppers are excited to have the store up and running. "If I need something, I won't always have to borrow from someone else," remarked Trumble, "I could just by it from the school store." FBLA Historian, Kezia Barnett ('11) couldn't agree more, "I hope the store grows larger as the years go by."