Key Club Trick or Trunk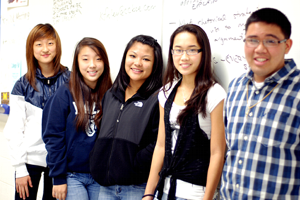 It's that time of year again where Key Club hosts their annual Trick-or-Trunk event. For those of you who don't know what Trick-or-Trunk is, it's an added twist to "Trick or Treat for UNICEF." Parents, teachers, students and members of the community decorate the trunks of their cars so that trick-or-treaters can go from trunk to trunk, getting their fill of candy.
Mr. Finley, who has been sponsoring the Key Club for two years now, says that the idea of Trick-or-Trunk started a year before he got involved with Key Club from a former Key Club officer.
"One can expect a safe environment for elementary and middle school students to trick or treat," says Finley, "This year we plan on having a lot more participants so we'll be getting more booths, maybe even have some face painting."
Since this will be Key Club's third year hosting the event a lot further will be expected this time around. "We're definitely hoping to have more activities," says ToVi Nguyen ('12), Key Club President. "We're putting up a candy apple booth this year and we're going to have more games. The goal is to make things more fun."
Trick-or-Trunk will be held at the North Point pool side parking lot, Thursday, October 28th from 3-8 p.m. It's a wonderful opportunity to both connect with your community and help out the UNICEF organization with donating to underprivileged children. If you want to get involved with the event this year contact Mr. Finley about registering your car for trick-or-trunkers or if you'd like to help out on a smaller scale, bring a bag of candy instead.
This certainly will not be the last event we see from Key Club. With its ever-growing number of members it's hard to ignore what the club is doing, "We'll be getting more involved with the community this year," says Vicky Park ('12), Key Club Vice President, "It's all about making community service fun."