His Sacrifice for Our Freedom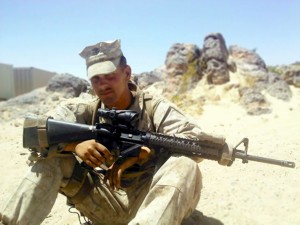 What is the first thing you think of when you hear the word freedom? Is it America? Your personal freedom? Your God given rights? Well for all of us here in the JROTC program, when we hear the word freedom, we think of only one thing, Lance Corporal Terry Edward Honeycutt Jr.
Terry had been a member of the JROTC program for all four of his years here at North Point. He was a member of the first graduating class of our beloved high school, and he was the first to volunteer to fight for the freedoms we take for granted every single day of our lives.
The night of his graduation ceremony, he left for the United States Marine Corps boot camp in Parris Island, South Carolina. He was there for three months. Afterwards, he came back to North Point for a quick visit with all of his fellow JROTC members before heading off to Camp Lejeune for his infantry training. He spent about nine weeks there learning how to defend his country.
Terry's unit was deployed to Afghanistan at the end of June 2010, but due to unfortunate circumstances, he was wounded in action, was sent to Germany for medical treatment, and he passed away the 27 of October. Terry died defending his country and that's what he wanted to do.
Throughout his career Terry earned numerous awards and recognitions including, but not limited to: the Purple Heart, Combat Action Ribbon, Afghanistan Campaign Ribbon, Good Conduct and the Expert Marksmanship Badge.
With Veterans Day just passed, be thankful for all the sacrifices that all the brave men and women of the Armed Forces make everyday, so we can be free. We take them for granted everyday, and we may never truly appreciate what they have done for us, nor do we fully comprehend the hardships they and their families endure for our country and freedoms.
So as we keep Terry's friends and family in our prayers, we must also include the friends and families of all the members of our military. God Bless America and the Armed Forces of the United States.