Family, Career, and Community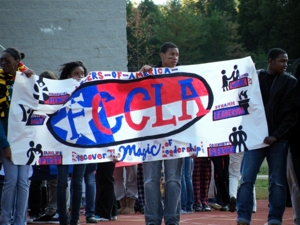 Family, Career, and Community Leaders of America (FCCLA) is one of many new clubs added to North Point's extracurricular activities this year.
"It's a great organization. We are the first school in Charles County to have an FCCLA." said, active member, Javon Moses ('11).
The mission of FCCLA is to promote personal growth and leadership development by focusing on the multiple roles of a family member, wage earner and community leader. The members develop skills for life through character development, career preparation and practical knowledge. Members of FCCLA believe that there is a lack in the sense of community in Charles County and they are set on creating one, by nixing the overly used phrase 'I'm bored' and getting the youth involved in the multiple underlying activities the area has to offer.
"I want members to be able to say that they started a legacy, that they left their mark by helping the community." explained President, David Roberts ('11).
President Roberts, Vice President Candace Law ('11), and Secretary Nique Brown ('11) are hoping to start off with a focus on a couple of the most emphasized youth concerns today: community service and volunteer work. They are planning to take a visit to a soup kitchen and organize a clothing drive for the Purple Heart Foundation, a charity that services military veterans.
"It's a great opportunity to extend people skills take part in activities in your community." said Vice President, Candace Law ('11).
Members of FCCLA are already reaping the benefits of being a part of this club and they are taking pleasure in the opportunities that are presented to them.
"I joined FCCLA because I like helping out the community." Shared newest member Jazmine Lewis ('11) "It helped me meet new people and it looks great on college applications."
Though most of the club leaders are seniors, they hope to encourage more students to join in order to pass down the leadership qualities they've gained from their experiences with this club.
FCCLA meets every Wednesday during the first half of Nest in the Nutrition Tech room.