A Look at Your Tomorrow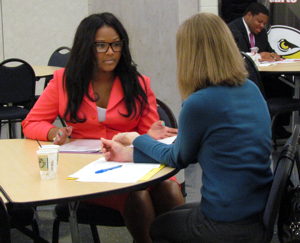 Clothed in professional attire, students sat around the outer office wall, anxiously waiting for the clock to match the time written on their passes. Once your name is called, butterflies flutter in your stomach, you gather your portfolio together, and follow Mrs. Grow in to the staff development room. You wipe your sweaty hand on your leg before greeting the interviewer. You take a seat at the table and hand your portfolio to the adult, who casually flips through the pages. Suddenly they look up at you with a smile, and your nerves slowly melt away as they utter the words you've been anticipating all day long, "tell me about yourself."
There are a number of requirements a student must fulfill in order to receive their diploma on graduation day. From their freshmen year to their junior yeas, students strive to achieve the bulk of their prerequisites. Once promoted to their senior year, there are only a few left to complete, among those include the Senior Exit Portfolio.
The Senior Exit Portfolio is a project that must be complete by all potential graduating seniors. The process calls for building a portfolio and attending a mock interview. Since the first month of the school year, seniors have been diligentily working to fulfill this obligation by meeting with their mentors, tweaking mission statements, updating resumes, gathering artifacts, writing rationales, and practicing their interview skills.
From December 6th through the 10th, seniors were seen strutting the hallways in their most professional attire and cradling their finailized portfolios, ready to take their interviews by storm.
"The Senior Portfolio process was very interesting. It helped with preparing a resume and looking inside yourself for your better qualities. The interview seemed like something to be nervous about, but it was just the anticipation. I felt sort of at home when talking to my interview and felt like I did a really good job. If I am interview  for an actual on, internship,  or anything else, I know I'll do well," stated Jarel Chisholm ('11).
"Being interviewed by a federal employee [secret service] was really cool because its a career I'm really interested in,' added Ben Dickshinski ('11).
"The real world starts here… create your own tomorrow," is more than just a slogan. It is the foundation that prepares students for flight. North Point has cared for its students since they are eggs as freshmen, nurtured them while they were children as sophomores, coached them through their adolescence as juniors, and is now ushering them toward the edge of the nest as seniors, ready for flight and confident that they will soar to even greater heights.
Senior Exit portfolios may be complete but the year isn't over. It is now time for seniors to buckle down and prepare for the next milestone in their life; graduation day.