FCCLA Gives Back to the Community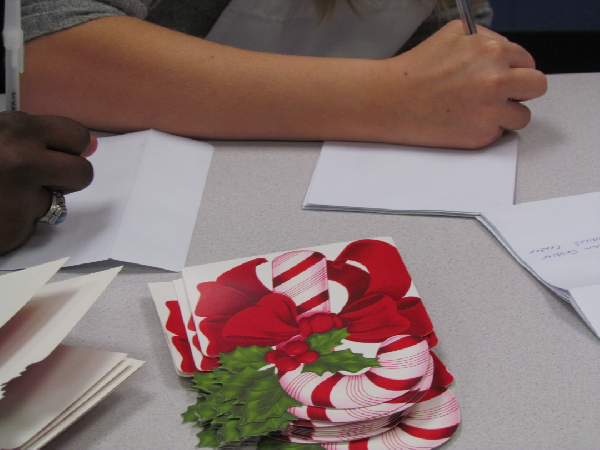 The nutrition technology room was filled with the spirit as holiday melodies and the aroma of warm soup filled the room. The Family Career and Community Leaders of North Point took part in the first of many communitiy service projects they have planned for this year.
Their first project sat bubbling in a huge stirring pot. As Natia Nicholas ('12) and fellow club members wrapped aprons around their waists, they washed, peeled, sliced and diced vegatabled into a soup for students to share with an elderly member of their community. The next day, students picked up a containers of soup for themselves and a s second one to share. Javon Moses ('11) shared his soup with a neighbor while Nicholas shared her soup with a few members of her church.
"Some of the elderly are usually alone at the nursing home during the season," stated Moses. "We want them to feel appreciated and know that we're thinking of them."
For their second project, members sent twenty holiday cards to injured veterans. The warm message inside the card wished a "Warm and wonderful Christmas and a bright happy New Year" to veterans at the Walter Reed Medical Center. For Dominic McFarlane ('11), sendinf the cards gave him a feeling of satisfaction. "It would be good for them to know that we're thinking of them."
Staying true to their mission to promote personal growth and leadership development, members of the FFCLA are set on creating a sense of community in Charles County.
"The kids are very motivated, which is fabulous," remarked Sponsor, Mrs. Huff. While future goals involve visiting the soup kitchen and organizing a clothing drive, the club planned on serving the community at least once before winter break. Co-Sponsor, Ms Hall along with President, David Robers ('11) and Secretary, Nique Brown ('11) came up with the community service ideas. "The bulk of the club is community service," added Roberts. "This was the perfect opportunity to give back."