Swim Team Takes a Polar Plunge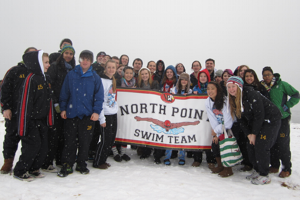 Thursday, January 28 had a high temperature of 35 degrees. Light snow blanketed the area and every outdoor surface was covered in it. This could hardly be described as great weather for a trip to the beach, but members of the North Point Swim Team, accompanied by representatives of the Student Government Association, found themselves plunging into the chilly waters of the Chesapeake Bay to support the Special Olympics of Maryland.
As the nearly thirty person team made its entrance into Sandy Point State Park, the Bay Bridge standing hazily in the background, a voice over the loudspeaker gave a warning. "The Plunge is in two minutes!" Thus began a mad dash of sweatpants and jackets being ripped down to swim trucks and bathing suits. The North Point plungers ran across the snow encased sand to the shoreline, took the few seconds they had left to compose themselves, and entered the icy Bay water.
This event, appropriately titled Frigid Friday, was sponsored by the Special Olympics, along with multiple television stations, radio stations, and other groups, as part of the larger Polar Bear Plunge. The Friday event attracted students from across Maryland, from Kent County to Anne Arundel. By collecting pledges, donations, and in some cases, selling baked goods, the Swim Team was able to raise nearly $3,000 to aid the Special Olympics. In sum, two days of Polar Bear Plunging raised a whopping $2,176,834 that will aid the Special Olympics in providing an opportunity for people with intellectual disabilities to participate in athletic events.\As one of the event's sponsors said, the plungers were showing the world that "it's okay to be different".
"I thought I was going to die," exclaimed Lauryn Coombs ('11), an SGA officer and honorary Swim Team member, as she looked back on her experience from the warm confines of the school bus. Coombs noted that the force driving her into the water was adrenaline. "You don't even think about it," she continued, recalling that after exiting the water, her first action was sprinting back across the beach to a towel and warmth.
Patrick Jackman ('11) echoed this sentiment, stating, "I didn't want to stay in the water for more than a few seconds."
Coombs and Mrs. Griffin, a trip chaperon, expressed their pride for the students who braved the cold for a great cause. "There are a lot of people who wouldn't do this", noted Coombs. All involved emphasized that plunging was not for the faint of heart. Griffin recalled, "I was glad they were doing it and it wasn't me…I was frozen just with my clothes on!"