Eenie, Meenie, Minee, Moe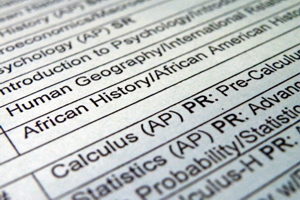 One day last week, Alexis Frye ('12) came into the choir room, plopped down next to one of her senior friends, and said, "I decided I don't want to be a doctor anymore." All of the parenting world cried out in pain as her words hit the air; disappointed that yet another teenager had forsaken the dream of becoming an engineer, a teacher, doctor, a senator, something 'useful,' for some pipe dream.
"I want to be a screen—" the parents wail harder, just waiting for the word 'actress'—"writer," Frye offers instead. The parents halt their cries for a moment when they hear the academic connotation in the word 'writer' before resuming their mourning, but only half-heartedly this time.
Later that day during NEST Frye sat in the choir room again, now scanning a green packet of paper in her hands. It was about that time when North Point students were reconsidering their ambitions—when course selection sheets brought them to the forefront of students' minds. Frye, for instance, now sees herself pursuing a different career, and has good reason for changing her mind.
"I like to write, and it's something I'm really good at. I want to make movies that touch people's hearts; that they can cry and laugh at for days." This realization wasn't a sole result of course selection sheet time, but it's definitely propelled Frye to choose certain classes for her senior year.
"Since I want to write, I will want to take more English classes and things that help with my creativity rather than math or science," she says. Although Frye solicited the help of several seniors as she looked over her course selection sheet, there was only one opinion that had a determining weight, and she wasn't even in the room.
"My mom," Frye explains. "I'm going to listen to what she says because she's my mom and I feel that she's going to know the most." And so it seems rising seniors put the most trust in their parents and current seniors as they consider their classes for next year.
Sharina Middleton ('13) considers the wisdom of many different people as she fills out her course selection sheet, but always keeps her own perspective and future career goals in mind.
"I want to be a CIA agent and work for the FBI," she says seriously. "I would need more science and foreign language classes [as opposed to] english or math." Now a French 4 student, Middleton feels that language classes are important to her career choice "so [I] can go to different countries and be fluent."
As she chooses her classes for next year, Middleton gets insight from a pool of people with different experiences. "Mainly my guidance counselor, friends, people who've taken the class before," Middleton says. "[And] I listen to my parents;" she concludes. "They have the final say-so."
Unlike junior Alexis Frye and sophomore Sharina Middleton, it seems that freshman Nick Essing ('14) has yet to grasp the value of a parental opinion as he chooses his classes. For now, his curriculum choices for next year will consist of "anything that sounds interesting." That's not to say that Essing doesn't have an idea of what he wants to do in the future. His goals, like various North Point students across all grade levels and backgrounds, haven't fully taken shape yet.
At any rate, exploring his interests is a sure-fire way to find out if he's inclined in one field or another. Essing does know that he wants to do something with either the media or animals. Having a general idea has still helped him to choose his classes; classes like "AP sciences, multimedia production, stage production, anything that'll help [me]."
Essing tends to talk to teachers and students of higher grade levels when he considers what classes to take for his sophomore year. "[Sophomores] have gone through the class so they know what it's like better than freshmen who haven't done it," he explains. "Freshmen aren't accurate; sophomores' opinions are a little more valuable."
Though the opinion of underclassman may be a little faulty, students can always trust their school counselors to steer them in the right direction. Ms. Quirk, who takes care of students with last names from A-Cn, discusses next year's courses with her students and tries to help them make the wisest decisions.
"If they have some idea of what they want to study in college [I] encourage classes in that subject area," she elaborates. "For those who want to go in the medical field, [I] encourage more than the minimum in math and science. [We] try to steer them toward classes that give them some exposure."
Counselors typically ask the students what their interests are as they help them choose classes. "[Knowing] what they want to do in the future helps for elective courses," Ms. Rotondi (Gr-K) says.
Counselors take a look at past report cards and test scores, and try to mesh the student's abilities with their interests. "I have to put them in courses where they'll be successful," Ms. Quirk explains. "My primary purpose is to make sure they have all the courses required for graduation."
Besides test scores and grades, counselors put a hefty consideration on teacher recommendations. "We lie heavily on teacher recommendations because teachers have students in their classes and they see their work ethic and ability," says Ms. Quirk.
For Ms. Rotondi, teacher recommendations are definitely crucial to her decision-making, as this is her first year at North Point. She says that course selections have been a pleasant experience for her. "Being [that] there's 2200 kids I don't get to see them as much as I'd like," she admits. "Doing course selections allows me to get a feel for their personalities, allows me to get to know my students."
As the course selection process allows Ms. Rotondi to get to know her students, she encourages them to get to know themselves, and to use their interests to help them choose their classes. "I'd like to think they base their decisions on what they want above else," she says.
Nevertheless, Ms. Rotondi feels that talking to parents will ultimately help students as they weigh all of their options. "Who you do or do not talk to in the process of choosing classes can affect where you end up." So choose wisely, my underclassmen! And good luck with next year.